Successful Education at Turf Science Live Ireland
Turf Science Live Ireland attracts industry's leading professionals
Over 120 groundsmen, superintendents, turf managers, agronomists and golf club managers attended the latest Turf Science Live event, which was held at Naas Golf Club in Ireland. The one day event allowed delegates to view live demonstrations of some of the latest developments in turf agronomy and turf maintenance machinery.
Organised by Everris, part of the ICL Group, with Syngenta, Campey Turfcare and Lely Toro Ireland, delegates were split into seven groups to view each of the different 30 minute work stations, which gave the opportunity to engage in active discussion and debate on the merits and potential for different techniques.
Station one was presented by Lely Toro Ireland and focussed on their new hybrid greens mower and sprayer. Station two saw Campey Turfcare showcasing their innovative Air2G2 aeration machine and Koro Field Top Maker. Station three was jointly presented by Everris and Syngenta showcasing tee renovation trial work undertaken at Naas Golf Club. The second half of the presentation was on Rescue – a selective herbicide for the control of Ryegrass in fine turf swards.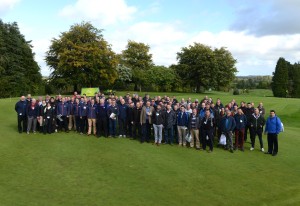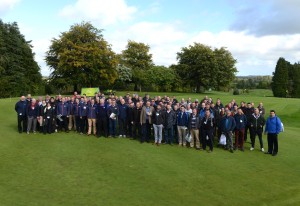 Station four saw delegates learn more about Primo Maxx growth regulator and the benefits of using it on fairways and other sportsturf surfaces along with new controlled release fertilizer technologies which have been trialled at Naas Golf Club to highlight cost-effective nutrition of granular applications at the golf course.
Station five was presented by Syngenta and their latest technology on fungicides which saw delegates learn more about Instrata – a broad-spectrum foliar fungicide that was launched in Ireland earlier this year.
Syngenta talked about water management at Station six and discussed the merits of using Qualibra wetting agent, which combines a unique and dynamic penetrant to move moisture, with a powerful polymer to hold moisture.
Finally, station seven saw Everris introduce their new turf data management app and how to use it to input data from moisture readings, stimp meter readings and Parry Meter readings to make the most of management and performance of sports surfaces.
Colman Warde, Country Manager Ireland for Everris, said: "Turf Science Live Ireland proved to be a highly informative and practical format to showcase some of the industry's latest innovations. We've been delighted with the results and feedback we received from the people who visited us. We've had over 120 people attend – it's been a great success."
Stuart Wilson, Pitch Manager at Croke Park Stadium, added: "The day has been very informative and the format has been fantastic. The way the stations have been set out and also the wide range of topics covered has been very useful for not just golf course superintendents but also stadium managers.
For further information, please contact Everris on 01473 237100 or visit www.everris.co.uk
For more news and insightful views, you can follow Everris on Twitter @Everris_Turf
https://www.fusion-media.eu/wp-content/uploads/2015/10/Turf-Science-Live-Ireland.jpg
1800
2619
chrisbassett
https://www.fusion-media.eu/wp-content/uploads/2022/02/FusionMedia_logo.png
chrisbassett
2015-10-14 11:42:55
2015-10-14 11:44:26
Successful Education at Turf Science Live Ireland