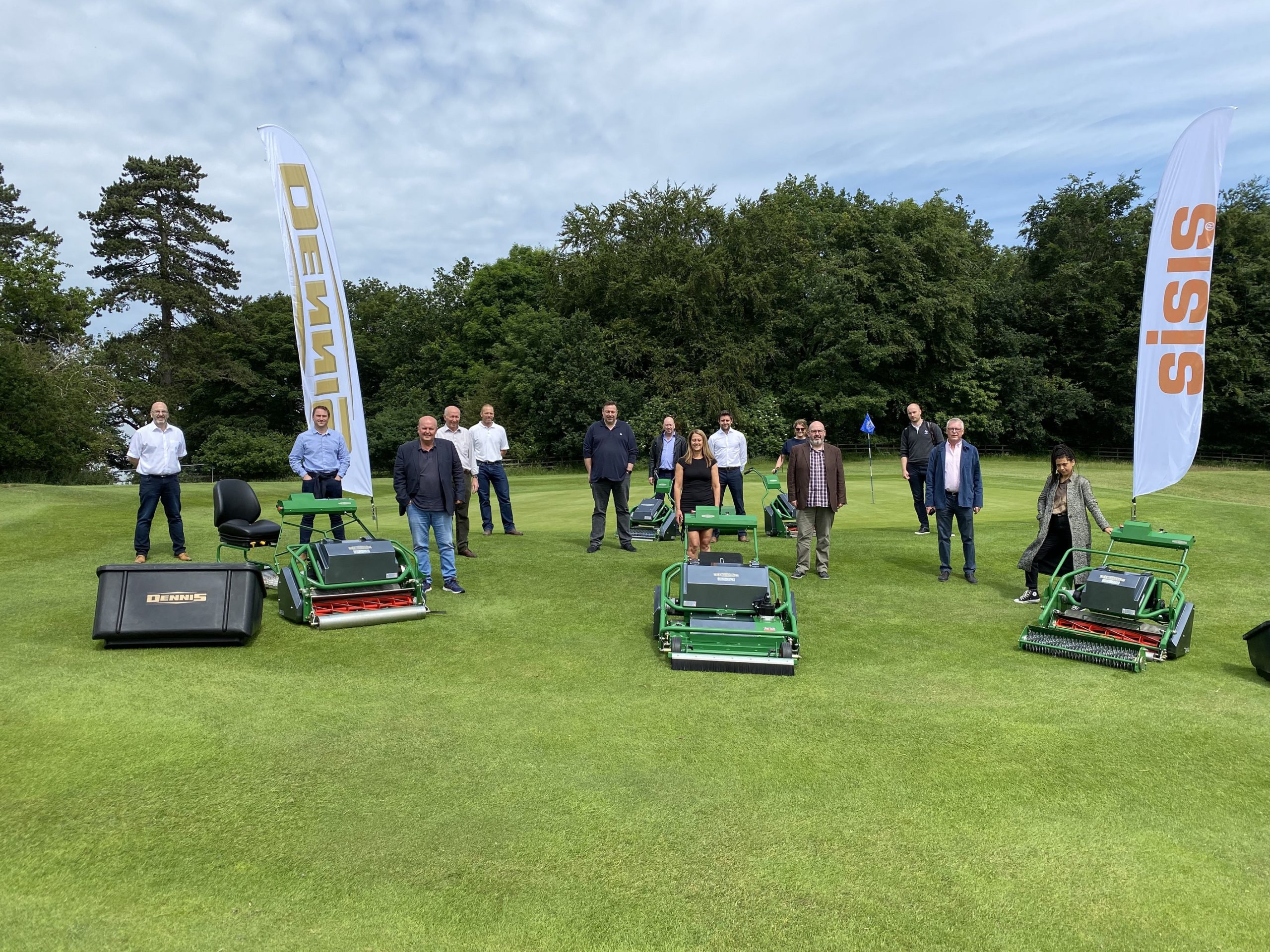 The Dennis E-Series is here
Trade press introduced to unrivalled battery-power from Dennis Mowers.
A number of industry press recently visited the Dennis & SISIS headquarters in Derbyshire to receive an exclusive look at the company's new and exciting range of environmentally friendly mowers called the E-Series.
For many years, turf professionals have been choosing Dennis Mowers for their superb cut quality and reliability, and anticipation quickly started building when the company announced its new battery-powered range.
Leaving no stone unturned, Dennis Mowers spent over three years working with carefully selected partners to develop a range of quality battery-powered equipment.
In addressing the press, Managing Director Ian Howard said: "Reliable and long-lasting solutions are a must have for our customers and in this rapidly developing technology field we have chosen our partners very carefully. For us it was important to create no compromise alternatives to our petrol mowers, which would not need constantly re-charging or swapping batteries – it was imperative that they last the distance.

"The hard work has paid off and now we can unveil our first market ready equipment befitting of the Dennis badge."
The Dennis E-Series range currently consists of three products:
ES-860
Users of the Dennis G860 cylinder mower will no doubt see familiarities in the new ES-860. This 34" battery powered turf management system delivers maximum versatility and the range of 13 interchangeable cassette options provide a solution to many day-to-day maintenance tasks such as cutting, scarifying and brushing. The power of the battery system ensures the machine is capable of cutting at least 2 pitches on a single charge or verticutting a full pitch without anxiety. Furthermore, current G860 cassettes will also fit the ES-860, meaning that customers will not have to purchase additional cassettes, reducing initial costs and allowing for a simple and easy change from petrol to battery machines.
ES-34R
The ES-34R rotary mower has twin contra rotating blades with the height of cut controlled by an easy to use 'click' system. Suction and blade speed can be adapted to meet the most challenging collection conditions.The mower is also available with optional front wheels, smooth or wiele roller, has excellent sight lines and cuts approximately 2 pitches on a single charge.
ES-36
Based on the Dennis Premier, the ES-36 provides a perfect finish every time. The envied Dennis stripes are easy to achieve which is also helped by a 3-section rear roller. The powerful battery system allows the addition of a trailer seat to be attached and still achieve a minimum of 20km of cutting. A uniquely developed micro adjuster makes it very easy to set the bottom blade to cylinder.
The machines feature a robust LCD keypad screen which provides the operator with a multitude of information options including speed, clip rate, service checks, lifetime running reports and battery information. The E-Series range of mowers take just 2 hours for an ultra-fast full battery recharge utilising a British 110A battery and will help turf professionals meet sustainability and carbon neutral goals. The ultra-low HAV's and noise allows operators to use the machines for a full day in any environment and along with the low maintenance, very low lifetime costs and significant cost savings on fuel are all benefits of the Dennis E-Series range.
The press had the opportunity to see all three machines in action and even received an exclusive glimpse of the new ES-510 ahead of its forthcoming launch. This new mower is based on the Dennis FT510 – which is, historically, the company's most popular machine.
Furthermore, Ian Howard revealed that by the end of October every existing Dennis product will have a battery-powered alternative and that work had already begun on the SISIS range too.
In an enlightening presentation, Sales and Marketing Manager Roger Moore offered an insight into how the company has fared since the last press event in 2016. Roger revealed how both Dennis and SISIS have seen year-on-year sales growth and despite the pandemic, are on track to witness a record-breaking year.
This, according to Roger, has all been possible due to the company's commitment to continual investment – investment in facilities, marketing, exhibitions, seminars, staff, export and of course products.
A factory tour, where all the Dennis and SISIS products are manufactured, gave the press members the chance to see first-hand just some of these investments. The group were also given rare access to the All British Precision factory where components for the machines are meticulously produced.
"It was a pleasure to open our doors to the press and introduce them to the E-Series," said Ian. "The launch of the E-Series marks a monumental period in the history of Dennis Mowers, and soon to be SISIS. It is the start of an exciting new era."
For further information or a no obligation demonstration, please contact Dennis 01332 824 777 or visit www.dennisuk.com
https://www.fusion-media.eu/wp-content/uploads/2021/07/IMG_5084-scaled.jpg
1920
2560
chrisbassett
https://www.fusion-media.eu/wp-content/uploads/2022/02/FusionMedia_logo.png
chrisbassett
2021-07-15 15:56:02
2021-07-15 15:56:02
The Dennis E-Series is here