When an artificial turf pitch (ATP) reaches a certain age and is in need of repair, thoughts will naturally turn to resurfacing. However, as one Replay Maintenance's clients recently discovered, not all surfaces are irreparable.
Additional usage can often be derived from a suitable programme of repair and a continued maintenance programme being put in place. The client in question, Active Newham in East London, runs a facility with three 3G pitches which have achieved its longevity in part due to the maintenance and remedial works carried out by Replay Maintenance, one of the country's leading artificial surface maintenance providers.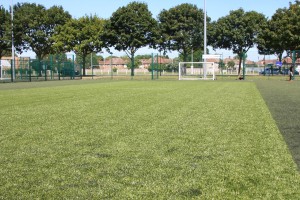 One such visit, to complete some urgent repairs, prompted a full site inspection by Nick Harris, the company's Business Development Manager to assess the underlying need for a substantial amount of repair to restore the pitch's safety and usability.
Staff at the leisure centre were seriously considering closing the facility for re-surfacing. However, opinions soon shifted once repair works began. From the initial inspection, 320m² of repair was carried out on pitch one, 160m² on pitch two and general re-stick repairs were carried out on pitch three.
"We thought that the repairs may have to be a temporary measure until we could find funding to resurface this area," explains Mark Bell, Managing Director of Active Newham. "However, following the completion of the repairs it was evident that the surface appears to be in excellent condition, which far surpassed our expectations."
When an artificial pitch ages, it is common to see a weakening in the playing and draining characteristics of the carpet, as the unavoidable need for replacement approaches. However, a regular maintenance programme does help to delay the inevitable, and in most cases, add years of life, generating additional revenue and enjoyment from the facility for users.
As artificial turf pitches become older, tell-tale signs of wear and tear start to appear including standing water, surface silt and a hardening of the playing surface underfoot. Therefore investment in the maintenance of an artificial surface once they have been installed is just as vital as the initial design and specification.
The advantages of a consistent maintenance regime are clear to see for any facility – enhanced playing characteristics, an extended life expectancy and improved drainage and aesthetics, to name but a few.
As well as weekly regular brushing carried out by its own in-house staff, Active Newham's artificial pitches receive a quarterly Revive® Plus+ maintenance programme from Replay Maintenance.
The Replay Revive® Plus+ process extends the life of an artificial sports pitch and minimises the risk of injury to players by improving surface grip and reducing compaction. It uses a specially developed, single operator machine to remove contaminants from the infill of the surface. Rotary brushes penetrate deeper into the infill compared to static brushes, which are commonly used, breaking up the contamination and removing it with a powerful vacuum filter system for disposal off-site. The infill is then filtered before it is distributed back onto the surface. It helps reduce compaction of the surface and lifts the pile of the carpet whilst enhancing its porosity and helps maintain the playing characteristics.
"Replay Maintenance is very knowledgeable and extremely professional. We spoke to Nick Harris, the company's Business Development Manager, where he conducted a full site survey and gave his recommendations which also included some repair work to certain sections of the pitches. I'm extremely happy with the work and services that have been carried. The customer service has been fantastic. I'd recommend Replay to any other leisure centre looking for a similar service," said Mark.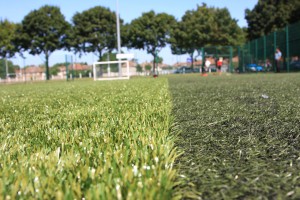 Active Newham joins an ever increasing list of facility owners who are turning to Replay Maintenance to maintain their artificial pitches.
Replay Maintenance's philosophy of maximising life from artificial sports surfaces whilst minimising health and safety risks to players is being reflected in their work throughout the UK. From the rejuvenation of artificial turf and the cleaning of athletics tracks to emergency repairs and service agreements for sports surface maintenance, Replay Maintenance provide a number of solutions to suit all budgets, needs and timings.
For further information, please contact Replay Maintenance on 01636 640 506 or visit the company's website www.replaymaintenance.co.uk. You can also follow the company on Twitter: @ReplayMaintain
https://www.fusion-media.eu/wp-content/uploads/2014/11/IMG_7001.jpg
2592
3888
chrisbassett
https://www.fusion-media.eu/wp-content/uploads/2022/02/FusionMedia_logo.png
chrisbassett
2014-11-05 10:08:56
2014-11-05 10:08:56
Leisure Centre Turns to Replay Maintenance to Extend Life of Surfaces