The fairways at Ashford Manor Golf Club have recently been gaining a lot of attention in the greenkeeping industry, and Course Manager Allan Tait has revealed how he has achieved such incredible results.
Established in 1898 the club is located in the village of Ashford, between Sunbury-on-Thames and Staines-upon-Thames. It is an 18-hole parkland course measuring 6,400 yards and is regarded as one of the finest courses in Middlesex, and beyond.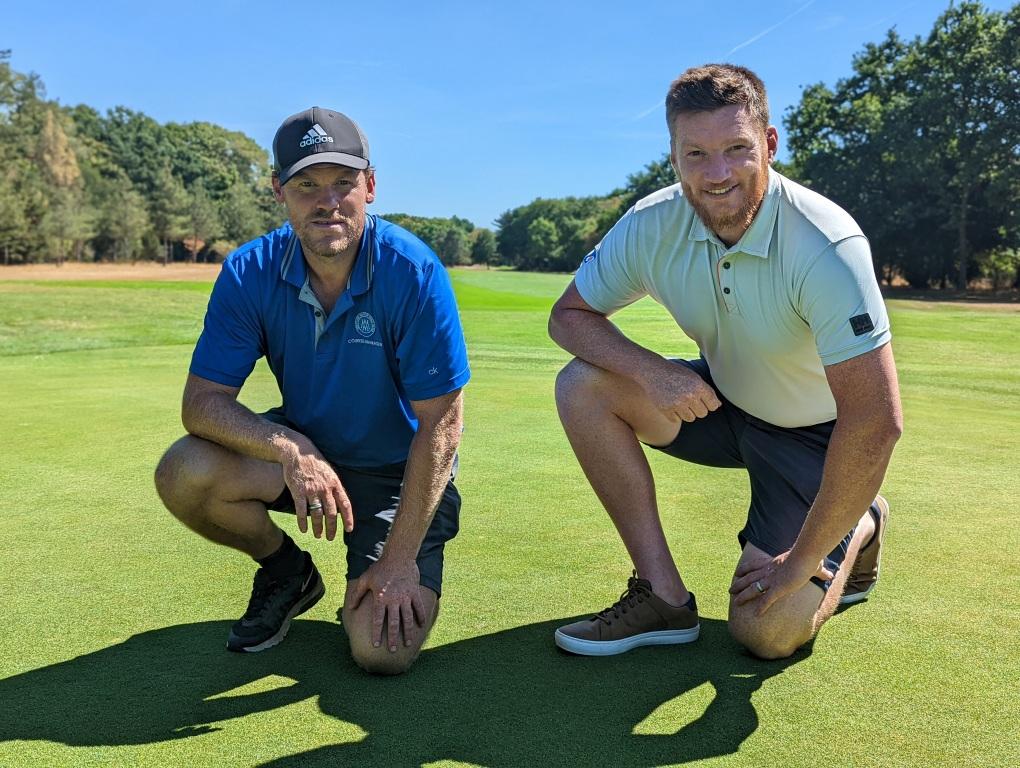 Allan Tait has been Course Manager for just over three years and has certainly helped boost the club's reputation throughout his tenure. However, like many others, the team at Ashford Manor are facing very testing conditions.
"Currently we are experiencing challenging conditions with drought and high heat stress which is making it very difficult to produce high quality surfaces."
Matters aren't helped by the fact that the course is extremely dry having been built predominately on sand and stone. Therefore, Allan ensures that he is always one-step ahead.
"I am a great believer that the work we do through the winter will help us maximise the results throughout the summer," he said. "During the colder months we frequently aerate and make certain that the water is deep into the profile, so we can keep it there for the summer months. We do adhere to a solid cultural regime and that goes hand in hand with the products we use – and one which has been key for us has been Aqua-Zorb liquid.
Aqua-Zorb liquid from Agrovista Amenity, is a concentrated non-ionic turf wetting agent that will enable water to move faster and deeper into the soil profile. One application can last all season and it is renowned for treating the cause of Localised Dry Patch. Aqua-Zorb can also improve drainage, alleviate compaction, reduce the quantity of irrigation required, suppress the formation of dew and greatly improve the quality of the sward.
Allan had trialled Aqua-Zorb in his previous role and therefore had no hesitation in using the product after Joseph Dormer from Agrovista Amenity suggested integrating it into his maintenance programme.
"In my old job I trialled Aqua-Zorb on the tees, which were poorly irrigated, because I wanted to improve the presentation of them," he said. "It made a massive difference and so I had a lot of confidence to bring it here at Ashford Manor and apply it to larger areas."
Due to the longevity of the product, Allan applies Aqua-Zorb liquid early in February/March at a rate of 50 L/ha. "We irrigate and combine it with rainfall to fully wet the profile – this reduces any hydrophobic conditions and ensures even moisture distribution all the way through," he added.
"Aqua-Zorb is a fantastic product and since using it we are seeing very little dry patch, and when for instance, we are hand watering we are not seeing any beading on the surface – the water is going exactly where we want it to go. We also have less fairy ring activity, and generally the areas that are treated look a lot more solid and uniform.

"What has been really evident is the areas that have been treated and the ones that have not been treated. I am over the moon with the quality of turf we are producing and am still seeing the benefits of Aqua-Zorb in these really dry conditions."
Allan applies Aqua-Zorb to most areas of the course, but it is the fairways that have received the most attention after a picture of them was posted on social media. Since then, many other greenkeepers have contacted both Allan and Agrovista Amenity to find out the secret behind the incredible fairways. However, the humble Allan refused to dwell on the attention and instead praised the working relationship between himself and Joseph.
"I've been using Agrovista products for fifteen years now and I have been working closely with Joseph for seven years," he said. "He has been a greenkeeper in the past, so he understands where I am coming from. We have a good relationship and have very productive conversations."
For more information about Agrovista UK, visit www.agrovista.co.uk/amenity
https://www.fusion-media.eu/wp-content/uploads/2022/09/Aqua-Zorb-at-Ashford-Manor-Golf-Club.jpg
768
1020
chrisbassett
https://www.fusion-media.eu/wp-content/uploads/2022/02/FusionMedia_logo.png
chrisbassett
2022-09-07 08:38:21
2022-09-07 08:38:21
Confidence in Aqua-zorb at Ashford Manor Golf Club