The sports pitches at Rugby School in Warwickshire are benefitting from a stronger sward after Attraxor plant growth regulator was recommended and supplied by Agrovista Amenity.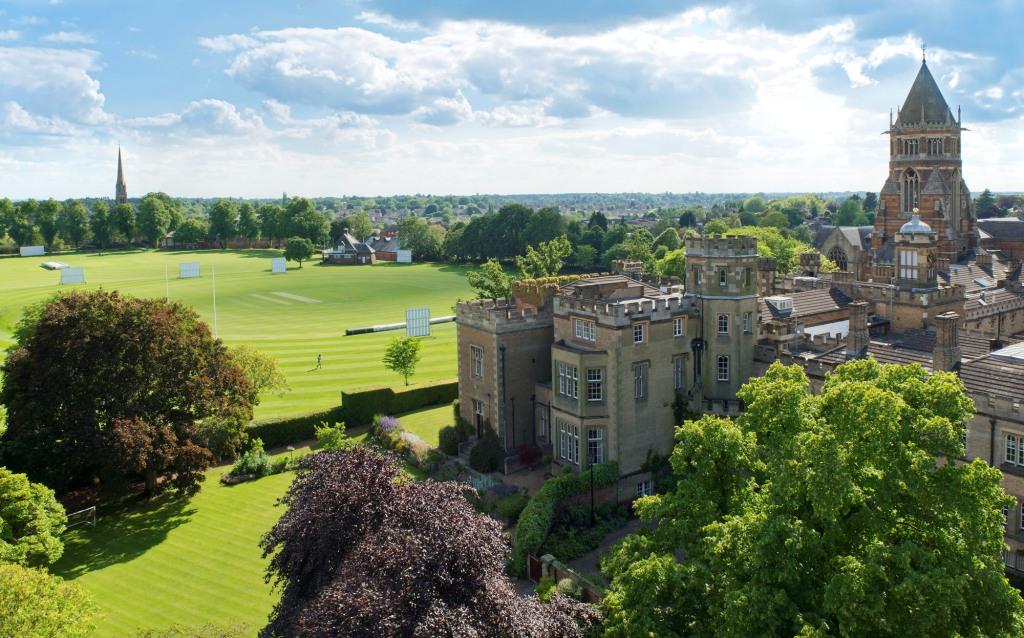 In 1823, student William Webb Ellis, took a football in his arms and ran with it, originating the game of rugby. Today, innumerable tourists visit the 'home of the game' and rugby teams from all over the world can be seen training at Rugby School. It certainly makes Grounds Manager, James Mead a busy man.
"There can't be any sort of downtime for the team, and I can be taken aside at any time," he said. "There could be a TV crew, very important persons or tourists that have made a rugby pilgrimage and want to stand on the turf where the game began. We can never afford to have an off-day here."
James admits that he is fortunate to have a close-knit team around him; one that has been together for an astonishing amount of time.
"We have a smashing team that has always been together – in fact no one has left in 18 years," he said. "It helps enormously because we are a very focussed group. Everyone gets a say – decisions and discussions are a collective. This way the whole team gets on-board with ideas, and everyone understands why we are doing something."
Three years ago, the team decided to incorporate Attraxor plant growth regulator into their maintenance programme. It was a decision which has proved to be considerably successful.
"We had just Koro'd off all of the cricket outfield and were starting fresh," explained James. "Following this we needed a product that would stick and would help to thicken the sward. Mark Allen from Agrovista Amenity recommended Attraxor and we are pleased he did – it made a huge difference to the strength and playability of the grass."
Attraxor, a BASF product, is a plant growth regulator containing the active substance, prohexadione and can be used to regulate growth of all managed amenity turf. This active substance inhibits the Giberrelic acid pathway, which results in a reduction of turf height and turf biomass. Root growth is promoted whilst turf colour and quality are maintained.
Based on its initial success, James and the team decided to further utilise Attraxor and it is now an integral product throughout the growing season.
"Attraxor was perfect for the cricket outfield and so we then used it on our two gold standard rugby pitches – which are the ones that all the visitors come to see. Again, it made a big difference.

"We do a lot of liquid spraying and Attraxor goes nicely into our tank mixes," he continued. "What we mix it with largely depends on the time of the year, but we will start applying Attraxor in March, as soon as the plant is up taking, and we continue to put it down every month throughout the growing season.

"In terms of cutting, we no longer have clippings to contend with and if we have had bad weather and can't cut, then it is no longer an issue.

"I have been very impressed with Attraxor. Not only has the sward improved, but growth rates across a range of grass species have been regulated equally. I'm especially pleased to see that the strength and vigour of less desirable Poa annua plants has diminished."
As well as reporting excellent results, James is also of the opinion that his formidable team has gained an extra member.
"Mark Allen is a very hands-on, amenable person to work with – he is a friend as well as a professional colleague. We bounce ideas off one another and it is a good collaboration. He gets on well with all the other members of staff and if anyone has any questions, he is always available to answer them."
For more information about Agrovista UK, visit www.agrovista.co.uk/amenity
https://www.fusion-media.eu/wp-content/uploads/2022/04/XV_Oratory_03a.jpg
683
1024
chrisbassett
https://www.fusion-media.eu/wp-content/uploads/2022/02/FusionMedia_logo.png
chrisbassett
2022-04-27 13:25:57
2022-04-27 13:26:16
Attraxor astounds at the birthplace of Rugby