Continuing its programme of working closely with end users, Dennis and SISIS have concluded their 2013 series of educational events with the recent bowling green maintenance seminars at Currie Bowling Club, near Edinburgh and Cardonald Bowling Club in Glasgow.
Committed to educating greenkeepers on how to maintain and look after bowling greens, the British manufacturer was pleased with the event which saw over 80 greenkeepers from 41 clubs attend the seminars which encompassed a mix of technical presentations and demonstrations 'on the green'.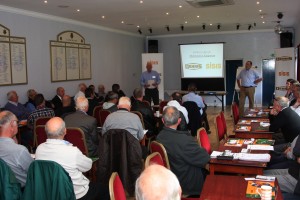 Both events kicked off with an introduction and welcome from Alan Ronaldson, Dennis and SISIS Area Sales Manager. This was followed by joint presentations from Willie Wood MBE and Patrick Hulbert from Bowls International magazine on what players want from their bowling green, before Jim Smith from Rigby Taylor discussed dealing with pesticides and fungicides and Ken Mawhinnie gave a presentation on finance options to clubs.
Always a popular figure with bowling greenkeepers, Dave Bracey was next up to talk about autumn and winter maintenance of the greens. This was followed by an 'on the green' demonstration of the bowling green maintenance equipment available before lunch.
After lunch, Dave Bracey continued his talk but this time on spring and summer maintenance before another 'on the green' demonstration. Both days were concluded by the infamous 'turf clinic' question and answer sessions.
"We had some very positive feedback from attendees, who said that they found the day informative and interesting," commented Alan Ronaldson. "We have a strong track record of hosting these events – not just bowls, but also for other sports and we are looking forward to hosting further seminars for greenkeepers and groundsmen in 2014."
Willie Wood MBE said: "I've found the day to be very informative. I've been able to talk to a variety of Greenkeepers and we've exchanged views on what we look for as players and what can be achieved on the greens."
Brian Galloway also found the day enjoyable: "The day has been superb. Dave Bracey was great and very knowledgeable and I've come away with lots to think about."
Further educational seminars will be planned 2014. Further information about the range of bowls maintenance products available can be found by visiting www.dennisuk.com / www.sisis.com.
For more news, reviews and insightful views, you can follow Dennis on Twitter @DennisMowers and SISIS @SISISMachinery. You can like the Facebook page – www.facebook.com/DennisMowersUK and www.facebook.com/SISISMachinery. You can also view the latest Dennis videos by visiting www.youtube.com/DennisMowers and www.youtube.com/SISISMachinery
https://www.fusion-media.eu/wp-content/uploads/2013/10/Dennis-and-SISIS-Bowls-Seminars.jpg
2592
3888
chrisbassett
https://www.fusion-media.eu/wp-content/uploads/2022/02/FusionMedia_logo.png
chrisbassett
2013-10-09 13:26:34
2013-10-09 13:30:06
Dennis & SISIS Bowls Seminars Get Seal of Approval North of the Border