Maintaining their commitment to educating groundsmen and greenkeepers, Dennis and SISIS have kicked off their 2014 series of 'on the green' seminars, starting at Potton Bowls Club in Bedfordshire.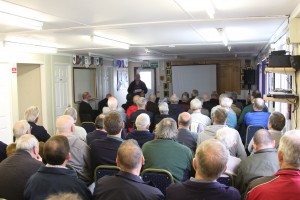 Continuing its programme of working closely with turf professionals, and on a warm and sunny day, over 50 keen greenkeepers from bowls clubs across the region enjoyed a comprehensive educational programme before seeing the latest machinery in action from the British manufacturer.
The programme for the day was started by Robert Jack, the company's Area sales manager, who welcomed delegates before handing over to Patrick Hulbert from Bowls International magazine and an Ex-International bowls player who gave his take on what a player expects from the green. Patrick was followed by Alistair Hollis, operational services manager for Bowls England who gave an update of the national governing body.
Next up was Mike Williamson of Sherriff Amenity who gave a technical presentation on seed and fertiliser including the correct formulations to use at different times of the year.
The morning session was concluded by Chris Sherriff, a bowling green contractor who gave his thoughts on the problems he had suffered during a thoroughly wet winter and how he has overcome them to get the greens ready for the start of the season.
After lunch, everyone went outside in the sunshine for a demonstration of a wide range of Dennis and SISIS turf maintenance machinery by the company's field support team which included spikers, scarifiers and a range of mowers.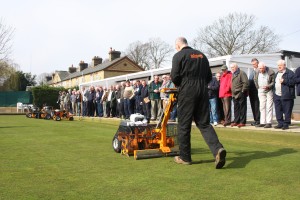 The day was brought to a close with the now infamous 'Turf Clinic' – a question and answer session, which proved to be quite lively with delegates getting the chance to ask the experts questions which they had about their greens.
Arthur Lindsey, the greenkeeper from Potton Bowls Club commented: "I was very happy to have the Dennis and SISIS seminar here at the club. The demonstration of all the machinery has given us a chance to see the latest turf maintenance equipment, whilst the presentations have been very interesting. The day has gone very well, the weather has been great and everyone has learnt something from being here."
Roger Moore, customer manager at Dennis and SISIS, said "The aim of these seminars is to give groups of greenkeepers the latest information about how they can improve their playing surfaces. We've already had some positive feedback from attendees, who said they found the day very informative and interesting, which is pleasing to know that we have got the correct mix of technical presentations and also machinery demonstrations. We will shortly be announcing other seminars across various geographical locations in due course."
For more news, reviews and insightful views, you can follow Dennis on Twitter @DennisMowers and SISIS @SISISMachinery. You can like the Facebook page – www.facebook.com/DennisMowersUK and www.facebook.com/SISISMachinery. You can also view the latest Dennis videos by visiting www.youtube.com/DennisMowers and www.youtube.com/SISISMachinery
https://www.fusion-media.eu/wp-content/uploads/2014/03/IMG_5257.jpg
2592
3888
chrisbassett
https://www.fusion-media.eu/wp-content/uploads/2022/02/FusionMedia_logo.png
chrisbassett
2014-03-27 15:20:03
2014-03-27 15:20:03
First Dennis & SISIS Bowls Seminar of 2014 a Sunny Success