Specialist weed control contractor Complete Weed Control has brought its technical expertise into play to ensure that the Celtic Manor Resort in South Wales is always in pristine condition – and continues to flourish with a long-term maintenance programme.
Director of Golf Courses & Estate Management James McKenzie MBE is convinced the fantastic-looking resort is in no small way due to the high standard of work and service provided by Complete Weed Control (South Wales).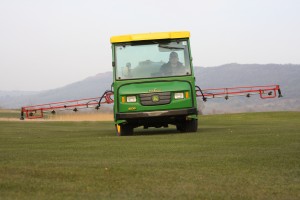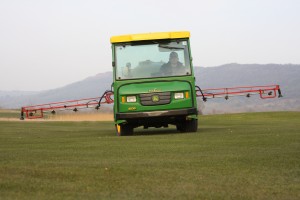 Following a positive testimonial from a greenkeeper at a nearby golf course, CWC has been working with James for almost twenty years having first been brought in on a short term basis to combat problem weeds during the construction of the Roman Road Course in 1994.
Since then, CWC have become a regular visitor to the resort with work including moss control, weed control, disease management and last minute cosmetic spraying applications as well as emergency works, ensuring that the course greens and fairways look their best at all times.
"Complete Weed Control are experts in their field and we see them as an extension to our in-house team," explains James. "Visitor experience is very important. We need to ensure that the three courses are open all-year-round, which is why it's important that Alan and his team are flexible and can come in either early morning before our visitors arrive or late evening – something that is only possible by working with a local company."
A major innovation in recent years has been the introduction of new technology to apply pesticides more accurately as part of a continuing drive to apply fewer quantities and conform to the EU sustainable use directive (SUD).
"The technology of weed control and spraying applications is quite sophisticated these days, and CWC is widely recognised as the number one contractor in the industry. They put a lot into research and development and really look after us. What we receive from them is a total solution, not just spraying, but a scientific approach and the best expert advice for the future. It's very cost-effective too, and we receive excellent value for money."
The CWC team know all three courses intimately – something James appreciates. "It can take years to train someone to know the sites as well as Alan and his team do. They work out of sight which lets our visitors enjoy their day. It's been known for Alan to be working as early as 4am and as late as 10pm – I really couldn't recommend Alan and his team highly enough."
You can view a video of what Director of Golf Courses & Estate Management James McKenzie MBE think about Complete Weed Control by clicking here.
For more information, please contact Complete Weed Control's National office on 01325 324 277 or visit www.completeweedcontrol.co.uk. You can also follow CWC on Twitter @CWCLimited for much more news, reviews and insightful views.
https://www.fusion-media.eu/wp-content/uploads/2013/04/IMG_0465.jpg
2592
3888
chrisbassett
https://www.fusion-media.eu/wp-content/uploads/2022/02/FusionMedia_logo.png
chrisbassett
2013-04-02 13:05:23
2013-04-24 23:23:27
CWC Gives Celtic Manor Total Solution Programme