Following an extensive demonstration process, Leicester City Council has purchased a SISIS Supaturfman – an independently powered heavy duty aerator, for key maintenance tasks throughout the year on their five bowling greens.
The SISIS Supaturfman is ideal for maintenance as a bowling green or cricket square aerator. Complete with a pivoted tine bar for vertical penetration and withdrawal without surface disturbance, it has a maximum working depth of 100mm (4") and a choice of interchangeable tines which allow for a variety of aeration methods to be carried out, and its simple yet effective design requires little maintenance for the operator.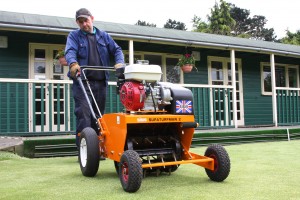 "We wanted something that we could use throughout the playing season which causes the minimum amount of disruption to the bowling green surface" said Mark Humphrey, Leicester City Council's Team Manager based at Evington Park.
Mark has worked for the council for over 30 years and in that time has used a range of SISIS turf maintenance equipment: "In my time here, we've found that SISIS manufacture reliable and easy to maintain equipment. If we ever need any spare parts, then we know that we can always get them easily. When we were looking for a new aerator, SISIS was our first choice because of our past experience.
"The Supaturfman is so easy to use and manoeuvre around the green, and because it's a pedestrian machine we can get in and out of each of the five sites with no problem – something which we used to struggle with in the past."
Prior to the Councils latest turf maintenance machinery purchase, the grounds team previously used a tractor mounted aerator which as Mark explained did a reasonable job but was very disruptive to the playing surface and limited the team to only using it out of season.
"We want to be spiking throughout the season, not just when the bowling greens are not being used," continued Mark. "With the Supaturfman; it only takes us about an hour and a half to spike a green, and because it's such a good, quick and clean machine which leaves no mess, we are able to use it once a month. To be honest, I'd like to use it twice monthly, or even weekly, but man power dictates what we can and can't do.
Complete with a set of pencil tines for regular maintenance work, Mark also purchased a set of hollow and chisel tines for the machine which the groundcare team use for autumn renovations.
"SISIS have been very good to work with and their sales manager Jason Briggs has provided us with excellent service. All in all, we are extremely pleased with the Supaturfman."
For further information or a no obligation demonstration, please contact SISIS on 01332 824 777 or visit www.sisis.com
For more news, reviews and insightful views, you can follow SISIS on Twitter @SISISMachinery and like the company's Facebook page – www.facebook.com/SISISMachinery. You can also view the latest SISIS videos by visiting www.youtube.com/SISISMachine
https://www.fusion-media.eu/wp-content/uploads/2013/08/IMG_2366.jpg
2592
3888
chrisbassett
https://www.fusion-media.eu/wp-content/uploads/2022/02/FusionMedia_logo.png
chrisbassett
2013-08-05 10:55:15
2013-08-05 10:55:15
Leicester City Council Choose SISIS Supaturfman for Quick, Clean Aeration