Complete Weed Control has announced that the company is set to make the Weed-IT technology available for councils and contractors in the UK and Ireland for the first time. The company will also be looking to appoint suitable dealers to service the requirements of their customers.  Interested parties are welcome to discuss matters at this year's IOG SALTEX, stand C70.
The Weed-IT machine has been a revolution in weed control application technology, developed specifically for the control of weeds on public footpaths and similar hard surface areas in urban situations. First introduced at IOG SALTEX in 1997, it was immediately awarded the accolade of 'Best New Landscape Product'. Despite this remarkable leap forward in technology, there are still huge numbers of councils and land managers employing outdated techniques that cannot be sustained.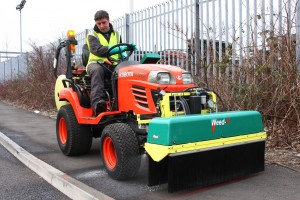 The SALTEX judges cited Weed-IT as being a "major advance in the field of weed control". Since then, CWC have treated hundreds of thousands of kilometres of footpaths and hard surfaces and continued to use and develop the technology. Following on from the technological advancements, new systems with higher transit speeds and greater working widths are now available.
The Weed-IT combines very accurate and rapid weed detecting technology to spot spray weeds in a highly efficient manner. With new labels for glyphosate stating the need for spot application as opposed to blanket application, the need for the system has never been more acute.  Visitors to SALTEX will learn of the new ways of accessing this highly productive system.
In addition to the MKII machine that CWC has showcased at SALTEX for the past 16 years, the new C150 machine will also be available. This new machine is based upon the agricultural technology that has been extremely successful in the Australian market. With faster transit speeds and a greater working width, the C150 is ideally suited to UK applications such as council footpaths, schools, colleges and amenity areas with large expanses of hard surface to treat.
"The usual environmental benefits are retained with the new machine," says Ian Graham, CWC's Managing Director. "We feel that it is now time for the weed spraying industry in the UK to step up to the plate and face its collective responsibilities to protect the environment in which we operate. Making the technology available to everyone removes the excuse for the blanket spraying of huge areas of hard surfaces. With the changes in the label for glyphosate, access to this state-of-the-art machinery has never been needed more."
The sale of the technology for the first time in the UK will be officially launched at this year's IOG SALTEX show. The company will be looking to appoint suitable dealers in order to create a network that can provide regional back-up and support for both the Weed-IT machine and the chosen carrier vehicle.
Following the show, on-site demonstrations will be available as well as bespoke builds for task specific machinery.
In addition to the exciting Weed-IT announcement, Complete Weed Control are partnering with Daniel Jones from Swansea University to assist with the very first extensive trials work into the effectiveness of different herbicides on Japanese Knotweed. Daniel will also be on hand to discuss the project.
Also on show will be the company's baseguard product. baseguard allows water and nutrients through its porous structure to the roots below, negating the issues associated with compaction. Tree wells are often choked with leaves, cigarette ends and other debris, especially when fitted with iron grilles. baseguard, however, fills these voids and can be installed in conjunction with grilles when the tree is planted, or as a retrofit.
In recent months the baseguard system has been used for much larger applications than simply tree surrounds, with access roads to sports pitches at Premier League training grounds as well as footpaths and play areas at schools being just some of its uses.
Complete Weed Control will be at IOG SALTEX from 3-5 September on stand C70.
For more information, please contact Complete Weed Control's National office on 01325 324 277 or visit www.completeweedcontrol.co.uk. You can also follow CWC on Twitter @CWCLimited for more news, reviews and insightful views.
https://www.fusion-media.eu/wp-content/uploads/2013/07/IMG_0669.jpg
2592
3888
chrisbassett
https://www.fusion-media.eu/wp-content/uploads/2022/02/FusionMedia_logo.png
chrisbassett
2013-07-30 12:34:16
2013-07-30 12:34:16
Complete Weed Control Announce Plans to Market Weed-IT Technology