Compacted, waterlogged golf and bowls greens in Norwich are now a thing of the past after local grounds maintenance provider, Waveney Norse (based in Lowestoft) recently invested in a SISIS Autoslit.
Aeration is a key process to improve drainage, reduce turf compacting, thatch build up and boost the health of the grass. The SISIS Autoslit is a pedestrian powered deep slitter for use on fine or outfield turf and produces excellent underground cultivation due to the angle of the tines. Its simple design requires little maintenance for the operator – another key factor in Waveney Norse's purchase decision.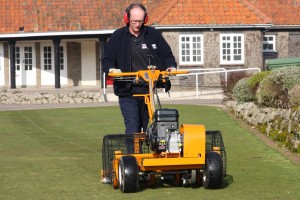 Richard Hackney, Operations Manager for the grounds department at Waveney Norse, chose the powered deep slitter to bring about some dramatic improvements across a number of sites where surface water had meant closure of the greens.
"The greens that we maintain are very prone to compaction and get very wet," said Richard. "With our previous machinery we found that after use, the course would be closed for 2-3 days. We needed to perform aeration tasks without disturbing the surface, meaning that people could play straight after."
"We spoke to our local machinery dealer, Ben Burgess, and they organised a demo of the SISIS Autoslit. It soon became clear that it was a machine that would be lightweight, quick and easy to transport to a number of sites. It ticked all the boxes we needed.
"It's very quick to use, with deep, clean penetration and minimal surface marking meaning that we can perform aeration tasks throughout the playing season which keeps each club open all-year-round."
Unlike traditional contractor service providers, Waveney Norse and its sister company, Suffolk Coastal Services, are joint venture companies (JVC's) set up between themselves and their respective District Councils. Each of these JVC's are subsidiaries of Norwich-based parent company, Norse Commercial Services. The jointly owned companies also ensure continuous improvement and sustainability of services to help make best use of public money.
For further information or a no obligation demonstration, please contact SISIS on 01332 824 777 or visit www.sisis.com
https://www.fusion-media.eu/wp-content/uploads/2013/04/IMG_9973.jpg
2592
3888
chrisbassett
https://www.fusion-media.eu/wp-content/uploads/2022/02/FusionMedia_logo.png
chrisbassett
2013-04-16 09:03:23
2013-04-24 23:21:28
SISIS Autoslit Helps Golf Course Stay Open All-Year-Round