Following an extensive worldwide search for new bowling green maintenance equipment, Long Beach Lawn Bowls Club in California have recently purchased a Dennis FT610 complete with verticutting and brush cassette, cassette storage system and a Bray hand seed slotter.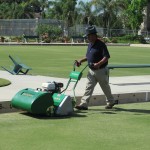 Like many bowls clubs around the world, bowling green maintenance duties and decisions are taken care of by the committee and playing members, including Peter Sinclair, the Club President. In late 2012, Peter along with club member Stephanie Johnson and Danny Ramirez from the local golf course, who look after the three bowling greens at the club, spoke with Joe Regan of nearby Laguna Beach Bowls Club. Joe had recently purchased a SISIS Rotorake MK5 and was raving about the playing characteristics of the green.
"We were looking to upgrade our maintenance machinery," explained Peter, "Our old mower was nearly 30 years old so we spoke with Joe and extensively searched the internet for the best mower on the market. We were particularly interested in purchasing a mower which could also accommodate turf maintenance cassettes, which would give us one machine to carry out a range of tasks. The Dennis FT610 looked to be such a good quality mower."
The Dennis FT610 professional mower, fitted with the innovative interchangeable cassette system is unrivalled as a mower and turf maintenance machine on all areas of fine turf. A cutting width of 24" and a range of 11 interchangeable cassettes mean that one machine can be used for several different jobs from de-thatching, verticutting or brushing.The machine was sold by CS Trading, the USA distributors of Dennis Mowers. The prompt response to every email & telephone conversation with Ian Camp and his team convinced Long Beach Lawns Bowls Club that the product would be very well supported, taking away the fear of being the first user in America.
"When we researched the Dennis FT610 the mower came out on top of the operators' evaluations for ease of use, robustness and manoeuvrability. We were immediately impressed with the ease of swapping cassettes, giving a versatile machine that could improve the quality of our bowls green. Rather than having to manoeuvre several heavy machines around, our greenkeeping needs could be met with just one machine."
Long Beach Lawns Bowls Club has a well-earned reputation for presenting the sport of lawn bowls to hundreds of people and for producing national champions. The club has been used by both divisional and national organizations for international and national competitions.
"It's a great product and we get great support from CS Trading. I would highly recommend the Dennis FT610 to anyone looking after a bowling green."
For further information or a no obligation demonstration, please contact CS Trading on (864) 843 5972or visit www.dennisuk.com.
For more news, reviews and insightful views, you can follow Dennis on Twitter @DennisMowers and like the company's Facebook page – www.facebook.com/DennisMowersUK. You can also view the latest Dennis videos by visiting www.youtube.com/DennisMowers.
https://www.fusion-media.eu/wp-content/uploads/2013/05/Dennis2013_02B.jpg
3456
4608
chrisbassett
https://www.fusion-media.eu/wp-content/uploads/2022/02/FusionMedia_logo.png
chrisbassett
2013-05-20 09:38:19
2013-05-20 09:39:50
Long Beach Lawn Bowls Club Choose Dennis FT610