Norwich City FC Head Groundsman Gary Kemp has recently doubled his fleet of Dennis G860 cassette cylinder mowers for use on the stadium pitch at Carrow Road and also the nearby Colney Training Centre to four.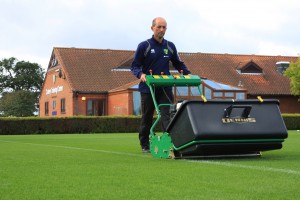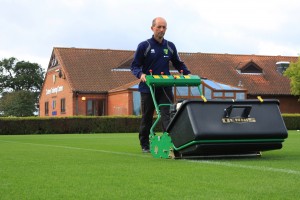 Barclays Premier League side Norwich City's Carrow Road Stadium had its Desso pitch installed for the first time back in 2004. It meant that Gary had to have a re-think about pitch mowing.
The club had to keep pace with pitch presentation that met the demands of visiting clubs, players, and most of all the television audience.
With 25 years' service to the club under his belt, Gary always liked the Dennis interchangeable cassette system: "I've had two G860's working on the Carrow Road stadium pitch for a number of years," explained Gary. "The new state-of-the-art Colney Training Centre is a 26-acre site and £1.4 million investment. In simple terms, years of us making do have given way to getting top spec kit.
"The Dennis G860 mowers are part of that. At Colney; mowing had previously always been done by one man and a ride-on triple mower. Now it's two men and two G860's. It's a daily job, always to 25mm, and two hours is the mean average per pitch for that man and machine ratio. We've been doing it this way since April on three new soil/sand rootzone pitches in the' pro's' part of the training ground set-up."
Things really changed recently; when in August work on the fourth pitch at the training ground was completed, switching it to a Desso construction with under-soil heating. The idea was to replicate Carrow Road conditions in every aspect. The mowers' job is simply to get it and keep it playing and looking like the main stadium.
"I like the 'no-wheel-marks' benefit of the G860's. They are lightweight at just 166kg and really come into their own as winter kicks in and conditions begin to get heavier."
Gary has opted for the 8-blade cutting cylinder for each of his G860's because of the volume of cutting needed. "Presentation is very important to us and using the G860 means we never have any worries. It's solid, well-balanced, but light weight, and achieves excellent results. We also have the optional trailer seat, but walk-behind is preferred by the groundstaff, which speaks well for operational comfort.
"The feature I like the most is that it's a three-in-one machine. There are plenty of choices available in terms of different cassettes – six and eight bladed cutting units, scarifier units, verti-cutter units, brush units, and a sorrel roller."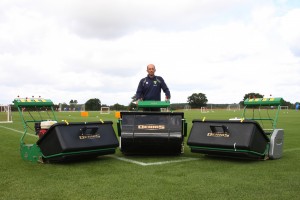 Verticutting is a once a week job, and for the Carrow Road pitch, often as not, this a Monday straight after a weekend match – in Gary's opinion the ideal time for such cutting and is a job that is necessary throughout the growing months. What about on the Desso surfaces? Gary says the G860 with Verti-cutter cassette fitted works just as well.
The four G860's at Norwich City are supplied to the club by Ben Burgess Garden Equipment.
For further information or a no obligation demonstration, please contact Dennis 01332 824 777 or visit www.dennisuk.com
For more news, reviews and insightful views, you can follow Dennis on Twitter @DennisMowers and like the company's Facebook page – www.facebook.com/DennisMowersUK. You can also view the latest Dennis videos by visiting www.youtube.com/DennisMowers.
https://www.fusion-media.eu/wp-content/uploads/2013/12/Norwich-City-Head-Groundsman-with-Dennis-G860-and-Dennis-Premier-football-pitch-mowers.jpg
2592
3888
chrisbassett
https://www.fusion-media.eu/wp-content/uploads/2022/02/FusionMedia_logo.png
chrisbassett
2013-12-11 11:21:58
2013-12-11 11:26:33
Dennis G860 is First Choice for Norwich City FC