Dennis G860 chosen by Bury FC head groundsman
Michael Curtis, Head Groundsman at Bury F.C's JD Stadium at Gigg Lane, has been at the club for almost 30 years. With the stadium pitch and three training pitches to look after, Michael and his team have their work cut out, so it is vital they have the correct equipment to meet the demands of the job.
"We used to have a triple mower which struggled in wet conditions. We had wheel spinning, the weight was an issue and it was even sinking in places. So we looked at numerous other options and Dennis came out on top. That was about eight years ago now. Since then we have used five of their machines and recently purchased another three," said Michael.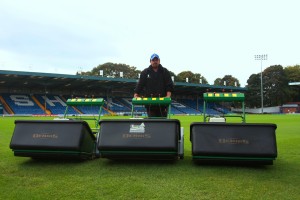 Michael said the main reason he purchased the G860 was because of the machines weight. At just 166kg it is one of the lightest machines designed specifically for stadium pitch mowing on the market. Equally impressive is the G860's versatility; with eleven quick changeover cassette options including scarifiers, verticutters, brushes, spikers, and slitters as well as 6 or 8 bladed cutter cassettes, many day-to-day maintenance tasks can easily be achieved.
The unique features of the G860 make it easy to see why the mower is the first choice for many top sporting venues around the world. With many televised sporting events being broadcasted live, the G860's work is always under the spotlight; most notably so at the recent FIFA World Cup in Brazil, where the G860's were selected to help prepare all twelve stadiums.
"The presentation that the G860 delivers is absolutely top draw. Like I say, I've used other machines before, but the G860 is brilliant; nothing else compares. We are on television most weeks and I can honestly say that our pitch always looks one of the best. It produces beautiful mowing stripes and aesthetically it just looks fantastic.
"We use the brush cassette to pick up all the debris after a match and also use the scarifier cassette two or three times a month just to dig the thatch out and rejuvenate the roots and shoots."
Michael uses an eight bladed cutting cassette which he says gives a finer cut and sharper finish. As with any large amount of cutting required; it is imperative that the machine is comfortable to use and this is something which the G860 is renowned for. With low vibration handlebars also featuring an all-encompassing console which controls the throttle, park brake, switches and cutter clutch, operating a machine has never been easier.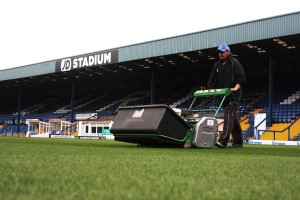 "I would definitely recommend the G860 to any groundsman; the speed of cut, the weight, the interchangeable cassettes, the overall performance – I'm very impressed indeed," said Michael.
Michael purchases all of his Dennis equipment from Campey Turf Care Systems.
For further information or a no obligation demonstration, please contact Dennis 01332 824 777 or visit www.dennisuk.com
For more news, reviews and insightful views, you can follow Dennis on Twitter @DennisMowers and like the company's Facebook page – www.facebook.com/DennisMowersUK.You can also view the latest Dennis videos by visiting www.youtube.com/DennisMowers
https://www.fusion-media.eu/wp-content/uploads/2015/06/Dennis-G860-in-action-at-Gigg-Lane-Bury-FC.jpg
2592
3888
chrisbassett
https://www.fusion-media.eu/wp-content/uploads/2022/02/FusionMedia_logo.png
chrisbassett
2015-06-24 09:07:13
2015-06-24 09:07:13
Dennis G860 Plays Another Gigg for Bury FC