A newly installed Hunter irrigation system, supplied by KAR UK, is part of a long-term plan to help futureproof Leicester Tigers' Mattioli Woods Welford Road Stadium, according to Head Groundsman Ed Mowe.
With a CV boasting positions at Leicester City Football Club, England FA's St George's Park and now Leicester City Tigers, it is safe to say that Ed knows how to produce a high-quality sports pitch. He has been with the Tigers for six years and he now believes that the time has come to look to the future.
"The old surface was coming towards the end of its life span, and we are going to be hosting more games soon because we've got a Leicester Tigers Women's team, who will be playing their home games here. So, this year, we had a new pitch constructed and we also saw an opportunity to replace all our irrigation sprinkler heads. The previous heads were old, and we were trying to replace them as they were breaking, so it just made sense to start fresh.

"Ultimately, we want to futureproof the stadium and the pitch, so it can be in the best possible shape moving forwards."
The pitch construction was carried out by Premier Turf who worked with Prime Irrigation. It was decided that the pitch would benefit from a mixture of Hunter TTS-885 and I-80 rotors, which were supplied by KAR UK – the leading wholesaler of irrigation equipment in the UK.
The 885 rotor belongs to the Hunter TTS-800 portfolio and provides maximum uniformity and longevity. The high-torque gear drives are the strongest in the industry, so the challenges of reclaimed water use, or poor water quality are mitigated.
The TTS-885 also benefits from Hunter's patented TTS (Total-Top-Service) technology which allows for every serviceable element of the rotor to be accessed through the top.
Mechanical and electrical, big and small, you can get to every component without disturbing the playing surface. That means there's no more digging, no more unsightly scars, and more importantly, one less item on a busy turf manager's schedule. Other notable features of the TTS-885 include true full-circle and adjustable part-circle (60° to 360°), exclusive PressurePort™ nozzle technology, and a radius of 11.3 to 28.7 m.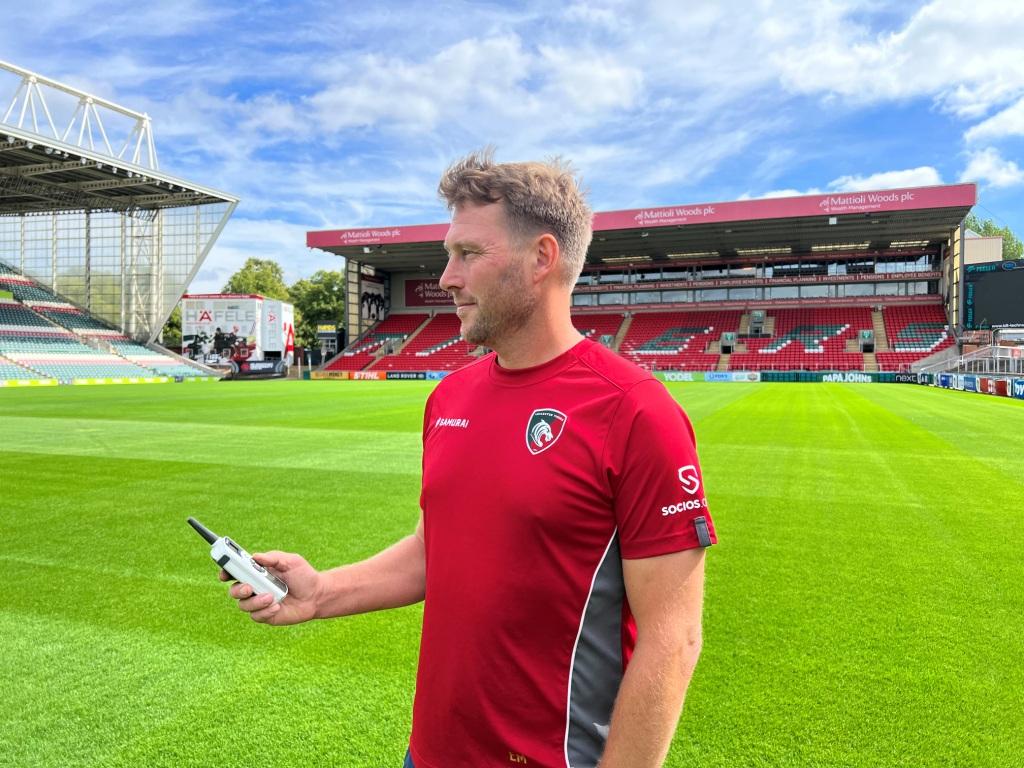 Meanwhile the I-80 is built with a robust, dirt-tolerant gear drive that offers the highest torque output of any rotor in the commercial sphere, and extends a radius range from 11.3 to 29.6 m. The I-80 features a wide range of highly efficient, dual-trajectory, wind-fighting nozzles for highly efficient performance in a range of applications. It also provides TTS via its integrated, surface-mounted snap-ring.
To accompany the rotors Ed opted for the mobile-friendly Centralus irrigation management platform and the Roam remote – which eliminates the need to go back and forth to the sprinkler controller. This connectivity allows you to view a controller's status, change settings, view forecasts, save water, and receive instant notifications of important system alarms — all without costly and time-consuming travel and site visits.
"This year really has proved just how important a good irrigation system is," said Ed. "The rotors provide us with excellent coverage, and they are not as prone to drift. Previously we were getting a lot of drift off the old heads. They are incredibly easy to use and maintain – you can simply pull them out and there is no digging involved. You don't have to take them apart to alter the arcs. I've not had any issues with them at all and they perform excellently.

"The Centralus and the Roam remote have also been of huge benefit," continued Ed. "It is all connected to the internet so I can easily sort out the various irrigation programmes. Having this flexibility has saved us thousands of pounds too because, if for example, I have set a programme and we get a big downpour of rain then I can simply switch it off. Also, in this respect we can target specific areas on the pitch. We just keep the remote in our pockets and if we see a dry patch or the manager wants a certain area watered, we can switch it on with the press of a button.

"Overall, I'm really impressed – and the irrigation system is absolutely helping to futureproof the pitch. It has helped to keep the moisture levels up for the grass to grow and the whole package just works for us."
For more information, please visit www.karuk.com
https://www.fusion-media.eu/wp-content/uploads/2022/10/Ed-Mowe-upgrades-Hunter-Irrigation-at-Leicester-Tigers-1.jpg
768
1024
chrisbassett
https://www.fusion-media.eu/wp-content/uploads/2022/02/FusionMedia_logo.png
chrisbassett
2022-10-04 11:48:52
2022-10-04 11:48:52
Hunter Irrigation helps to futureproof the Tigers