From seed to nutrition – an ICL integrated turf management programme is helping Warrington Wolves modernise its grounds department.
Before taking the position of Head of Grounds at Warrington Wolves Niall Hazlehurst had always been involved in football grounds management having worked at Bolton Wanderers FC, Rochdale A.F.C. and Fulham FC.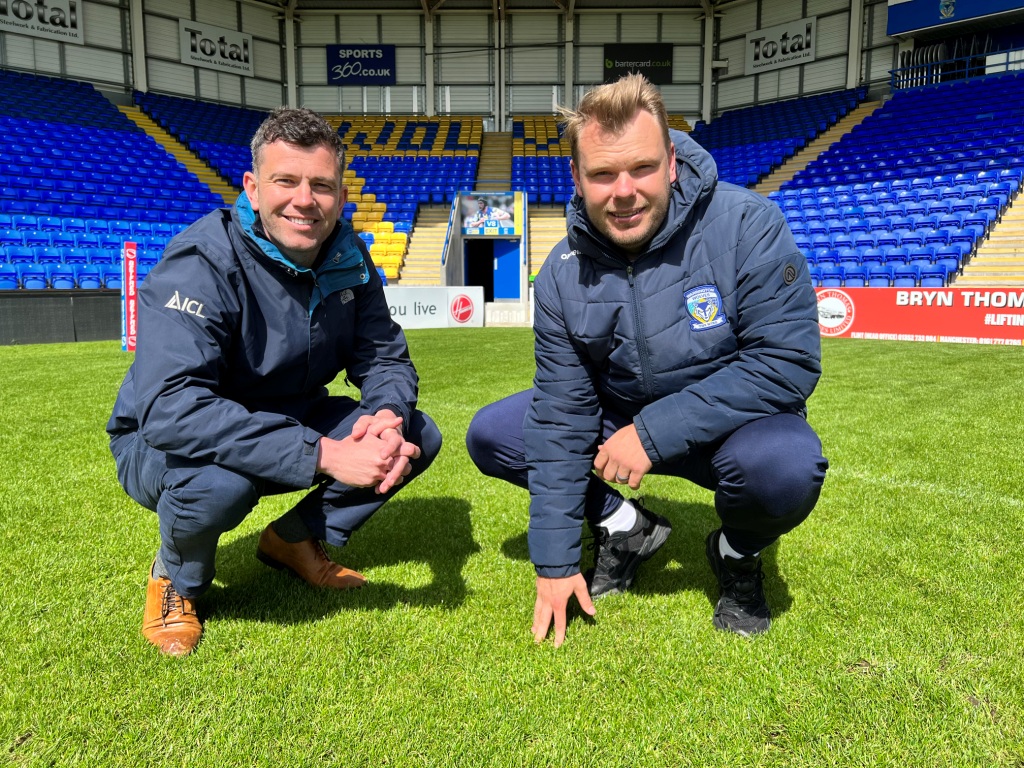 However, the job at Warrington Wolves, a Rugby League club signalled the prospect of a new and exciting chapter which would allow him to put his own stamp on the project.
"I had a chat with the management team, and it became apparent that I would be working with a blank canvas," said Niall. "There were so many old machines and so we cleared everything out and started fresh. It was time to modernise the department and also the pitch."
With the full backing of the owners, Niall got to work, and his first action was to investigate new grass seed options at the Halliwell Jones Stadium. After recommendations from fellow groundstaff at Doncaster FC and seeing it perform well at other venues, Niall decided to go with ICL's ProSelect 1 Premium Pitch.
Combining four top-ranked perennial ryegrasses and with rapid establishment, it provides a fast-recovering, dense, hard-wearing surface.
"My plan was to use ICL's nutritional products, so I thought it made sense to use the seed as well," he said. "I liked the fact the cultivars in ProSelect 1 rank very highly in the BSPB ratings. Last season we scarified as much as possible and overseeded with the ProSelect 1, and we had really good results.

"It helped keep Poa at bay, and the germination and establishment are quick. What stands out to me is how well the pitch plays. Now the seed has had a chance to establish we no longer get those big divots when the rugby players all come together."
After seeing successful results from the seed, Niall and Phil Collinson, North West Key Account Manager for ICL, started to explore the possibility of introducing ProSelect Sport TRT into the seeding programme.
"We took the next step, and we are now using a combination of ProSelect 1 Premium Pitch and ProSelect Sport TRT," said Niall. "ProSelect Sport TRT is a hard-wearing creeping ryegrass mix and will bring a lot of benefits to a pitch that doesn't have full surface removal each year."

Phil offered his thoughts: "By using a combination of both seeds, you get the high ranked cultivars from ProSelect 1 Premium Pitch along with the benefits of Torsion – one of the cultivars in ProSelect Sport TRT. We all crave that dark green colour that we see so much on TV and with Torsion in Sport TRT genetically being a darker variety it gives you an advantage over some of the other cultivars. And when you consider its wear tolerance then it makes sense to introduce it to a situation like Niall is managing."
With confidence in the seed, Niall's focus quickly turned to nutrition and specifically a feeding programme.
"I wanted to move away from a scenario where the pitch was getting fed when it looked like it needed to," he said. "I felt we needed a more pro-active approach which would avoid peaks and troughs. This pitch needs to be always ready and playable because the club can agree to put a game on at any time – it brings in revenue. This is fine now because the pitch is continuously good, and I think ICL's Sierraform GT Spring & Summer CalMag14.0.7 fertiliser has played a part in this.

"Because of its micro granulation, you can use low rates more frequently, fortnightly for example, to help level out that nutrition and avoid lots of lush growth. With it being predominantly slow release, we can rely on it to give great longevity out of the product and the colour it provides is unbelievable."
Niall also revealed that a tank-mix consisting of Greenmaster Liquid CalMag at 20 L/ha and Vitalnova Stressbuster at 20 L/ha is playing an integral part in his maintenance programme.
"We like to apply this 48 hours before a game," he said. "It gives us everything we want, including outstanding presentation and great recovery. Since we have been using this tank mix there has been very little to no damage to the pitch under play. At the end of the day, it's similar to the way you would prepare a player before a game – the pitch is a living thing too."

Commenting on the progress Niall has made, Phil said: "It is a unique situation here at Warrington Wolves with very high usage and high pitch demands. A bespoke plan was needed, and Niall is working brilliantly towards taking the pitch in a new direction – it is evolving all the time."
Please contact ICL on 01473 237100 or visit www.icl-sf.co.uk or www.icl-sf.ie if you are in Ireland.
For more news and insightful views, you can follow ICL on Twitter @ICL_Turf
https://www.fusion-media.eu/wp-content/uploads/2022/08/ICL-Helps-Warrington-Wolves.jpg
768
1024
chrisbassett
https://www.fusion-media.eu/wp-content/uploads/2022/02/FusionMedia_logo.png
chrisbassett
2022-08-17 11:25:06
2022-08-17 11:25:06
ICL helps to modernise Warrington Wolves