Jockey Club Racecourses, operator of 15 leading UK racecourses, including those at Aintree, Cheltenham, Epsom Downs and Newmarket, has signed a three-year extension to their contract with sports and amenity turf and landscape supplier Sherriff Amenity.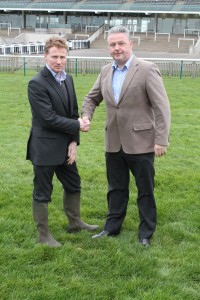 The deal sees the supply of a range of turf related amenity products from Sherriff Amenity's diverse range to the largest commercial group in British racing.
Governed by Royal Charter to act for the good of British racing, The Jockey Club reinvest all of its profits back into Britain's second biggest spectator sport. Over the last 10 years, more than £155 million has been invested in state-of-the-art developments to its facilities and turf surfaces and the Group works alongside other parties with the same vision and values wherever possible.
"Several organisations were involved in a rigorous tendering process, but the stand out presentation was the one delivered by the Sherriff Amenity team," explained Ian Sidgwick, Group Purchasing Director at the Jockey Club. "It would also be fair to say that in practice they operate with a similar level of professionalism and energy which has helped to develop and cement the relationship between Jockey Club Racecourses and Sherriff Amenity."
According to Michael Prosser, Regional Head of Racing in the East Region at Jockey Club Racecourses, it was also a combination of the technical expertise from Sherriff Amenity's technical specialists, the ability to be able to budget for the long-term and the use of the best products on the market that clinched the new long-term agreement.
"Sherriff Amenity have an extensive product range and provide an outstanding service," commented Michael. "The ability to review and formulate the maintenance regimes for the racing surface and fine turf areas in conjunction with their professional and knowledgeable technical team has proved to be invaluable. Without doubt, it has saved us time and money and made budgeting that much easier."
Sherriff Amenity and the Jockey Club Racecourses have been working closely together for a number of years and the three year supplier agreement extension is testament to sharing the same goals to improve and modernise the management of the racing and estate surfaces, as Ian continues:
"The technical assistance provided by Sherriff Amenity has been critical in our drive to keep raising standards. I have no doubt that any organisation or individual that worked with them would be equally impressed and I would freely recommend Sherriff Amenity to anyone."
For further information, please contact Sherriff Amenity on 01638 721 888 or email info@sherriff-amenity.com
For more news and insightful views, you can follow Sherriff Amenity on Twitter @SherriffAmenity.
https://www.fusion-media.eu/wp-content/uploads/2014/04/The-Jockey-Club.jpg
5184
3456
chrisbassett
https://www.fusion-media.eu/wp-content/uploads/2022/02/FusionMedia_logo.png
chrisbassett
2014-04-23 09:42:12
2014-04-23 09:42:12
Jockey Club Racecourses Stay on Track with Sherriff Amenity