Seppi, Italian specialists in manufacturing top, quality forestry mulchers and mowers, unveiled its newest product at the recent APF 2014. The Starsoil, which is the latest soil tiller and stone crusher, certainly lived up to its name and Lamberhurst Engineering, the UK distributor is expecting an influx of orders.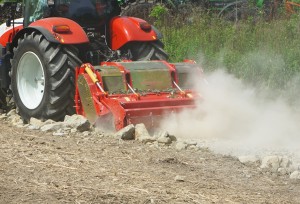 Contractors in the forestry industry eagerly looked upon the 2 speed gearbox machine which has an extended range of functions as well as impressive versatility.
Suitable for tractors, with a power class between 150 and 250 HP, the Starsoil is equipped with a new traction system that simplifies work by ensuring greater efficiency. Amongst these are soil-tiling to a depth of 40 cm, crushing stones with a min. diameter of 30 cm and mulching wood with a diameter of 40 cm.
The two speed gearbox enables a reduction from 1000rpm to 540rpm while maintaining the speed of the PTO of the tractor at 100rpm. Therefore, this feature results in higher torque and better processing during both mulching wood (fast pace) and milling rocks and soil (slow pace).
The roller has seen an improvement in comparison to its predecessor, which now has a larger diameter and more toothed rings enabling soil to be penetrated more easily. With a reinforced bearing durability has been upgraded and the new roller scraper allows for the removal of soil residue.
The core features remain unchanged but a further advantage can be found in the form of an integrated cooling system. The cooling function can easily be activated from the tractor cab using the control device and the temperature can be controlled constantly through the display which eliminates the risk of transmission overheating. The parallel gear transmission offers reduced width and smaller footprint.
Other features include:
• The frame is covered with replaceable anti-wear plates made of Hardox ®
• New generation patented rotor with efficient tool combination of the new type, "MONO PROTECT™ and" MONO EXTREM ™ with additional tungsten carbide inserts at points most subject to wear
• High performance with minimum energy consumption thanks to its lightweight construction (2500 – 3500 kg)
• Hydraulically adjustable hood and compacting roller
• Adjustable crushing bar and grill to obtain the desired degree of crushing
• Three-point ISO linkage of 3rd category
• The innovative ADAM™ cardan alignment system is available on request, to improve the adaptation of the machine to the soil. This feature of "angular compensation" is used to protect the cardan shaft and the tractor PTO from unnecessary stress caused by differences in soil.
• Hydraulic compacting roller (can also be used as guard frame) or grading blade available according to choice
• Work widths available – 175, 200, 225, 250 cm
The complete range of Seppi products is on sale in the UK exclusively from Lamberhurst Engineering.
For more information, please contact 01892 890 364 or visit the website on www.lameng.com. You can also follow Lamberhurst Engineering on Twitter @FerrariTractors
https://www.fusion-media.eu/wp-content/uploads/2014/10/Starsoil-crushing-stones.jpg
981
1439
chrisbassett
https://www.fusion-media.eu/wp-content/uploads/2022/02/FusionMedia_logo.png
chrisbassett
2014-10-02 12:28:30
2014-10-02 12:28:30
Seppi Starsoil Star Attraction At APF 2014