National grounds management company Glendale has confirmed its commitment to quality by recently purchasing a range of 60 Etesia Pro 46 models, increasing their fleet to around 300 Etesia machines.
"The deal with Etesia underlines our commitment to use only the highest quality machinery. We chose the PRO 46 PBE push and PBTS self-propelled models after several successful demonstrations, mainly due to Etesia's excellent reliability record over the last ten years," said Glendale's Commercial Director Stuart Darbyshire.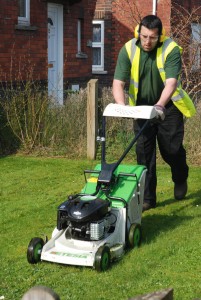 The contractor has used a lot of different pedestrian mowers in the past. Stuart says that the pedestrian rotary mower is a difficult item to specify correctly because they are heavily used so must be robust, but must also be at an affordable price point. "When we looked at reliability versus cost, the Etesia mowers came out on top. In the ten years that we have worked with Etesia, there have been a couple of occasions where we tried other manufacturers' products which were cheaper but not as successful – they were simply not as reliable at the Etesia machines, so we went back to Etesia and haven't looked back since.
"We normally depreciate the pedestrian mowers in our fleet over a two year period, and we are happy that the Etesia mowers will be able to carry out the contract work to the required standards, and cope well with the demands of our commercial grass cutting operations."
Designed to meet the rigours of a wide variety of commercial grass cutting applications, Etesia's Pro 46 pedestrian rotaries are specified by contractors who want to profit from grass cutting. The Single bladed Etesia PRO46 PBE push and PRO46 PBTS self-propelled models have a 5hp Briggs and Stratton engine. Cutting width is 46cm, the detachable grass box with 'full' indicator has a capacity of 52 litres, and overall weight is just 37kg. Designed around the operator, the handlebars are ergonomically shaped and mounted for ease-of-use. New 'soft-touch' controls reduce pressure on the hands and fingers during operation. Extensive testing of these latest models has shown low vibration levels that meet stringent Health and Safety guidelines. There are six models available in the range, with options including mulching facility.
"The good thing about these models is that they are extremely versatile and good at cutting & collecting. Whilst the majority of our work is cut and collect, some is cut and drop, so it's useful that we only need one machine for both jobs. We now have around 250-300 Etesia pedestrian rotaries in our fleet so we see them as our pedestrian mower of choice and Etesia is a key supplier," adds Stuart.
For further information, or to arrange a free demonstration, please contact Etesia UK on 01295 680120 or visit www.etesia.co.uk
For more news, reviews and insightful views, you can follow Etesia on Twitter @EtesiaUK and like the company's Facebook page – www.facebook.com/EtesiaUK
https://www.fusion-media.eu/wp-content/uploads/2013/07/DSC_0154.jpg
2896
1944
chrisbassett
https://www.fusion-media.eu/wp-content/uploads/2022/02/FusionMedia_logo.png
chrisbassett
2013-07-31 10:29:39
2013-07-31 10:29:39
Glendale Choose Etesia as Preferred Pedestrian Mower