Npower Championship football club, Leeds United, has purchased two Dennis G860 34" professional cylinder mowers, complete with a range of interchangeable cassettes, to help maintain the Elland Road pitch.
Head Groundsman Kiel Barrett explained that the decision to switch from their previous supplier had been driven primarily by the amount of turf maintenance tasks that he can now perform with just one machine.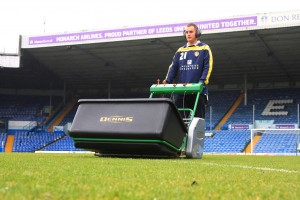 "Our previous mowers were a lot heavier and although they were only six years old they were becoming unreliable," explained Kiel. "We had a Dennis G860 which was ten years old and it's never missed a beat, so when it came to buying a new mower, we spoke to other groundsmen to see what they were using – everyone we spoke to was using Dennis;  so it was a natural choice for us."
The pair of Dennis G860's gives Kiel and his assistant Oliver Brown a consistent cut quality and height, with the added benefit of rolling which produces a visually superior finish. "Many of our games are televised and the G860's give us a precise sharp cut that we need for the best possible presentation."
Kiel chose two 8 bladed cutting cylinders and two tungsten tipped verti-cutter cassettes for regular thatch control, which as he explains mean the club has had to purchase less maintenance equipment.
"Verti-cutting is of major importance at Elland Road, so being able to do this with the same unit as what we use for mowing is a major benefit. They are also extremely lightweight at just 166kgs and extremely easy to use. The cassettes are very quick to change – we can change from cutting to verti-cutting or brushing in quick time."
With a rich heritage of producing professional mowers used at top sporting venues around the world including the World Cup finals and European Championships, Dennis is renowned with groundsmen looking for the perfect finish.
"The build quality of the G860 is of an extremely high standard. Dennis as a company has been excellent to work with and Ian Waddington, our area sales manager, has been extremely helpful. We see Dennis as one of our key suppliers and I would have no hesitation in recommending Dennis to anyone looking for a versatile football pitch mower."
For further information or a no obligation demonstration, please contact Dennis 01332 824 777 or visit www.dennisuk.com
For more news, reviews and insightful views, you can follow Dennis on Twitter @DennisMowers and like the company's Facebook page – www.facebook.com/DennisMowersUK. You can also view the latest Dennis videos by visiting www.youtube.com/DennisMowers.
https://www.fusion-media.eu/wp-content/uploads/2013/08/Dennis-G860-Leeds-United.jpg
2592
3888
chrisbassett
https://www.fusion-media.eu/wp-content/uploads/2022/02/FusionMedia_logo.png
chrisbassett
2013-08-01 14:28:50
2013-08-01 14:28:50
Leeds United Switch to Dennis