Ewan Hunter, Grounds Manager at Nottingham Forest FC, has praised the products and service he receives from Mansfield Sand.
After starting his career as a greenkeeper, Ewan Hunter moved into football grounds management and has remained in the sector for over 20 years. His first job in football was at Rushden & Diamonds FC before starting at Nottingham Forest FC in 2005. Having been at the club ever since, Ewan's work has been recognised through numerous groundsman awards, and he can now add the title 'Premier League Groundsman' to his CV after Forest recently achieved promotion to the top tier.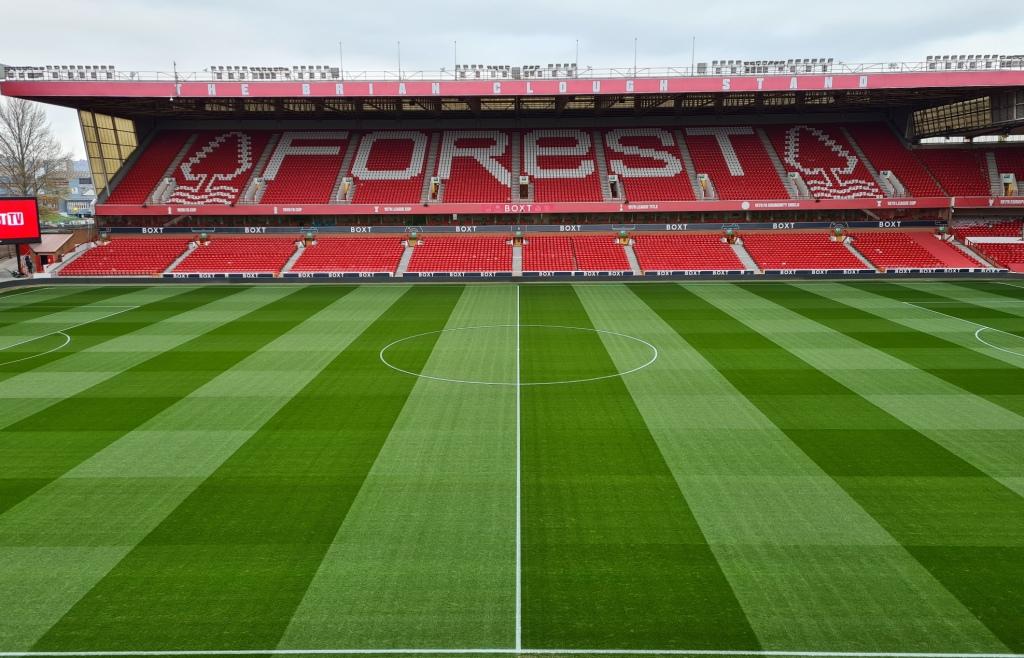 Ever the professional, Ewan remains focussed.
"Our work won't change with us being in the Premier League," he said. "We will continue to do our job the same way we always have. Obviously, we want to improve standards all the time, and there are future projects, which include new first-team pitches for the training ground, and eventually we will have a new stadium pitch. Yes, the technology we utilise might be better and more modern, but our work will remain the same."
Ewan oversees a team of seven members of staff that work across the stadium pitch and the training ground. All the pitches across the two sites are of the same construction as Ewan explains.
"All of the pitches we have here are Fibresand, and we use a variety of Mansfield Sand's products. I've been working with Mansfield Sand since my days at Rushden and Diamonds, so well over 20 years."
Mansfield Sand is a company with history and pedigree – in fact, its origins can be traced as far back to 1840. It has been a long-standing pioneer in the development and production of premium sand-based products and boasts the most up-to-date and advanced equipment currently in the industry.
From winter sports pitches, golf courses, bowling greens and all amenity turf areas – Mansfield Sand has a solution for all.
Ewan continued to offer an insight into how he uses Mansfield Sand's products.
"Most of the products we use from Mansfield Sand are renovation products. We will strip the pitches, Koro them off and then top dress with Mansfield's MM40. If we are adding fibre to the pitch then we will use their Fibresand, and that is mixed into the rootzone by the contractor.

"Through the season, we will use their top dressing and a little bit of rootzone, mainly to level out the goal mouths that get a lot of wear.

"Rootzone is very important and is integral to a healthy pitch."
Furthermore, two pitches at the training ground are currently being reconstructed using 5000 tonnes of gravel, 6902 tonnes of MM40 sand and 4089 tonnes of 85/15 sand soil rootzone, all of which are sourced directly from Mansfield Sand's Two Oaks Quarry.
The work is being carried out by Ewan's reliable contractors MJ Abbot and Premier Pitches, who order the products directly from Mansfield Sand. Ewan may not necessarily be involved in the ordering process anymore, but he still maintains a good relationship with the company.
"The customer service from Mansfield Sand is perfect, and Sharon Morris (Sales Manager) is brilliant. She is a life-long Forest fan, and she comes to watch the games. I talk to her pretty much after every home game and she will wander down from the stands after the match to have a chat. She is always on the other end of the phone if we need her, and she always goes out of her way for us."
For more information visit www.mansfield-sand.co.uk
https://www.fusion-media.eu/wp-content/uploads/2022/08/Nootingham-Forest-choose-Mansfield-Sand-Social.jpg
658
1024
chrisbassett
https://www.fusion-media.eu/wp-content/uploads/2022/02/FusionMedia_logo.png
chrisbassett
2022-08-10 06:07:28
2022-08-10 06:07:28
Mansfield Sand is fab for Nottingham Forest