Conference football club Wrexham has a new pitch at its Racecourse Ground to match their ambitions of getting back into the Football League and one fit for international duty once more. Contractor Souters Sports was given the job of upgrading a playing surface that had never before had a major upgrade and responded to the call for action at very short notice.
The stadium is now officially the Glyndwr University Racecourse Ground, since ownership passed to the University in 2011 after Wrexham FC survived Administration. The new pitch is part of a £300,000 facelift with the ultimate aim of restoring its UEFA classification to host international matches, which has dipped in recent years.
As well as cash support from the football club, which is now owned by its fans, funding for the project came from the Welsh FA, the Football Stadia Improvement Fund, and the Rugby Football League, with the latter supporting the interests of the North Wales Crusaders, which these days uses the ground for its February to September home fixtures.
The ground was closed for two months while work on the pitch, floodlighting and changing rooms was completed.
"John Bowie and the Souters Sports team had barely seven weeks to do an amazing amount of work on our pitch," said head groundsman Paul Chaloner. "They did everything asked of them on time, even though a week was lost at the outset due to bad weather. Our pitch has been transformed. Everyone here is delighted."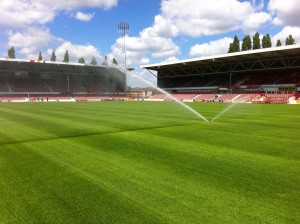 Two winters of waterlogging and lost fixtures meant a major drainage re-fit had become essential. Clay drains laid many years ago were no longer doing the job and one of Souters Sports' main tasks was to design and install a system of upvc lateral drains at 5-metre intervals with sand-slit drains overlaying these to accommodate the 105 x 68 metre pitch.
After Koro stripping 25mm of the existing turf surface, bulldozers and laser leveling took out the length of the field camber, an outdated and now totally unsuccessful means of draining the surface. For the first time football – and rugby – is being played on a flat pitch and one that will deal with any amount of rainfall.
Four hundred tons of sand was added to the soil base for leveling before Germinal Seeds' Rapid Sports Renovator mix was used for re-seeding. By the end of July the sward was sturdy enough to be used for the first time by a briefly exiled Crusader's for their home match against Workington. It has since seen out their season and continues to look and play immaculately for Wrexham FC as they begin their campaign for promotion.
Also installed by Souters Sports was an automatic Hunter irrigation system, replacing the labour intensive, hit-and-miss hosepipe and connector method Paul had been compelled to use in his seven years at the Racecourse Ground. A dedicated pump house and 20 sprinklers now do the job, much to the appreciation of players and ground staff.
The ground celebrates its 150th year this season and is actually the world's oldest international football stadium. There is a genuine confidence that the new pitch will go a long way to encouraging the Welsh FA to bring its national teams back there.
For further information, please contact Souters Sports Limited on 01236 453030 or visit www.souterssports.co.uk. Souters Sports are also on Twitter @SoutersSports
https://www.fusion-media.eu/wp-content/uploads/2014/10/Souters-Sports-Wrexham-FC.jpg
1936
2592
chrisbassett
https://www.fusion-media.eu/wp-content/uploads/2022/02/FusionMedia_logo.png
chrisbassett
2014-10-17 12:14:48
2014-10-17 12:20:27
Red Dragons Have Pitch Fit for Internationals Thanks to Souters Sports