Lee Evans, Head Groundsman at the Millennium Stadium in Cardiff has a long working relationship with Complete Weed Control (South Wales) stretching back almost ten years. He now employs the UK's leading sports and amenity weed control contractor for all 'spraying applications' on the pitch as well as the surroundings of the stadium.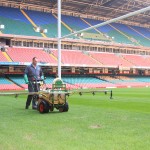 The specialist contractor keeps both the pitch and stadium surroundings free of weeds and moss as well as all regular monthly applications of fertilisers, soil amendments and fungicides.
"Alan and his team are always very professional and are experts in their field, which is why I like working with them," said Lee. "Everyone knows the well documented problems we've had here in the past with the stadium being dark and damp so it's prone to disease on the pitch. Complete Weed Control help with all of our spraying needs and it's certainly helped keep issues in check."
CWC visit the Welsh national stadium on a monthly basis to apply a liquid feed programme and have also implemented a new sustainable approach to weed control by reducing the use of fungicide down to a minimum using the Headland Turf Protection Mixture from Headland Amenity.
Even though Lee and his grounds staff are fully trained in pesticide control and spraying he maintains that it is much more cost effective to work with the contractor than carry out the work himself. "The cost of risk assessments, keeping up-to-date with legislation and having the state-of-the-art equipment that CWC have is very expensive. It's much more cost effective to bring in the experts who know I can trust to get on with the job and provide a quality service."
As well as the regular monthly programme devised by Lee and the CWC team to keep weeds and disease on the pitch under control, the contractor comes into the stadium to 'green-up' the pitch the week before live televised games to ensure that it always looks it's best to the millions watching.
"It's vital for not only me, but also my team to work with a specialist contractor as I know we can trust them. If we have any issues on the pitch, and sometimes we do as it is constantly changing, I know I can call Alan and he'll be able to advise us on the best possible course of action."
For more information, please contact Complete Weed Control's National office on 01325 324 277 or visit www.completeweedcontrol.co.uk. You can also follow CWC on Twitter @CWCLimited for much more news, reviews and insightful views.
https://www.fusion-media.eu/wp-content/uploads/2013/05/IMG_0195.jpg
2592
3888
chrisbassett
https://www.fusion-media.eu/wp-content/uploads/2022/02/FusionMedia_logo.png
chrisbassett
2013-05-14 07:51:18
2013-05-14 07:51:18
Millennium Stadium Choose CWC for All Spraying Applications