Following the recent announcement that SALTEX will be moving to the NEC in Birmingham, visitors from around the UK say that the new indoor element and new time of year are key reasons behind their decisions to attend the exhibition in 2015.
With the threat rain putting a damper to many outdoor exhibitions and attractions, resulting in double digit percentage declines (The Guardian 2014), indoor venues have thrived. In fact many exhibitions representing the same interests as SALTEX are located in an indoor environment.
Take GaLaBau in Neuremberg as an example. One of Europe's leading trade fairs, GaLaBau showcases an entire spectrum of products and services for the design, construction and maintenance of urban, green and open spaces. The event covers thirteen exhibition halls and attracts an impressive 60,000 visitors and 1200 exhibitors on average. Some of these exhibitors include industry heavyweights such as John Deere, Ransomes, Toro, Kubota, Dennis and SISIS; which are regular exhibitors at SALTEX.
Part of the success of this show is due to its excellent travel links. Neuremberg has a major European transport hub and you can reach the exhibition centre quickly and directly via motorway, rail or airport. SALTEX's new home, the NEC in Birmingham, is at the heart of the UK motorway network. Birmingham's international rail station is on-site and Birmingham international airport is just minutes away via a free air-rail link.
The growing popularity of indoor groundscare exhibitions is a positive sign. Other successful shows within the industry include the Golf Industry Show (GIS) and Sports Turf Managers Association (STMA) in US and the FSB Fair in Cologne.
These indoor shows offer excellent marketing opportunity for exhibitors to promote their products and services. At GaLaBau 2014; 97 per cent of the exhibitors reached their most important target groups while 93 per cent made new business connections.
At these events, exhibitors do not rely on outdoor areas for demonstration purposes; their success is built upon the role of their stand as a shop window; a gateway to sales leads in which demonstrations are carried out at a potential client's site. In fact many SALTEX visitors say they prefer a personal demonstration in the comfort of their own surroundings.
"I like having a browse around and seeing different products. I take it all in and then look forward to a deeper look when we get home and exhibitors bring kit to the racecourse so we can try it out properly. I'm a great believer in getting our hands on kit at our own place," said Adrian Kay, head groundsman at York Racecourse.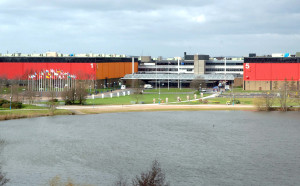 Darren Baldwin, grounds manager at Tottenham Hotspur FC, also believes that SALTEX is more about seeing what companies have to offer. "Trade shows 10 years ago, were a place to do business. You would go along and you would do deals there and then, but that's not something that happens anymore – it's just the nature of the industry. SALTEX, for me has always been fantastic but it was time for change, so I applaud the IOG for making a bold move. I'd be disappointed if people in our industry don't go there to support it."
Of course, moving to the NEC does not signal the end of SALTEX demonstrations altogether. The NEC hosts numerous industry trade shows within which demonstrations are carried out; as one subscriber on Service Dealer was quick to point out: "The construction industry doesn't seem to have a problem demonstrating large kit at the NEC, so I don't see why SALTEX machinery should be a special case."
The change of date is also favourable among many visitors. In November, end of season renovations will have been completed for summer sports while those working at schools, universities and other educational environments will have more space in their busy diary.
Regular SALTEX visitors Turbary House Nursery took to Twitter to say: "Much better as it's a quieter time of year for most, we can make more time to visit."
While head groundsman at Chester F.C, Steve Ollerenshaw, thought that the move made complete sense: "It's a quiet time for the majority of the industry. Central. Weather proof halls; it's a no brainer."
Aside from the obvious weather benefits, indoor venues provide a more compact visitor experience, which allows for more focused exhibitor attention and greater networking opportunities are also presented with the IOG's annual conference and awards taking place at SALTEX 2015.
So with a new quieter time of year, a more accessible venue opening the gates to a much wider audience, all signs indicate that visitor numbers for SALTEX 2015 will be at an all-time high.
For more news, reviews and insightful views, you can follow SALTEX on Twitter @IOG_SALTEX and visit the website at www.iogsaltex.com
https://www.fusion-media.eu/wp-content/uploads/2014/10/SALTEX-Moves-to-the-NEC.jpg
1815
2919
chrisbassett
https://www.fusion-media.eu/wp-content/uploads/2022/02/FusionMedia_logo.png
chrisbassett
2014-10-22 08:18:14
2014-10-22 08:18:14
New SALTEX Is The Way Forward