New York Red Bulls Praise SISIS Osca. Dan Shemesh, Director of Stadium and Training Grounds for the New York Red Bulls has praised the SISIS Osca 3 which maintains the synthetic turf on one of the club's training fields.
When Dan Shemesh was looking for a machine that would help take his synthetic turf to the next level, he found the solution in the form of the SISIS Osca 3 tractor mounted oscillating brush.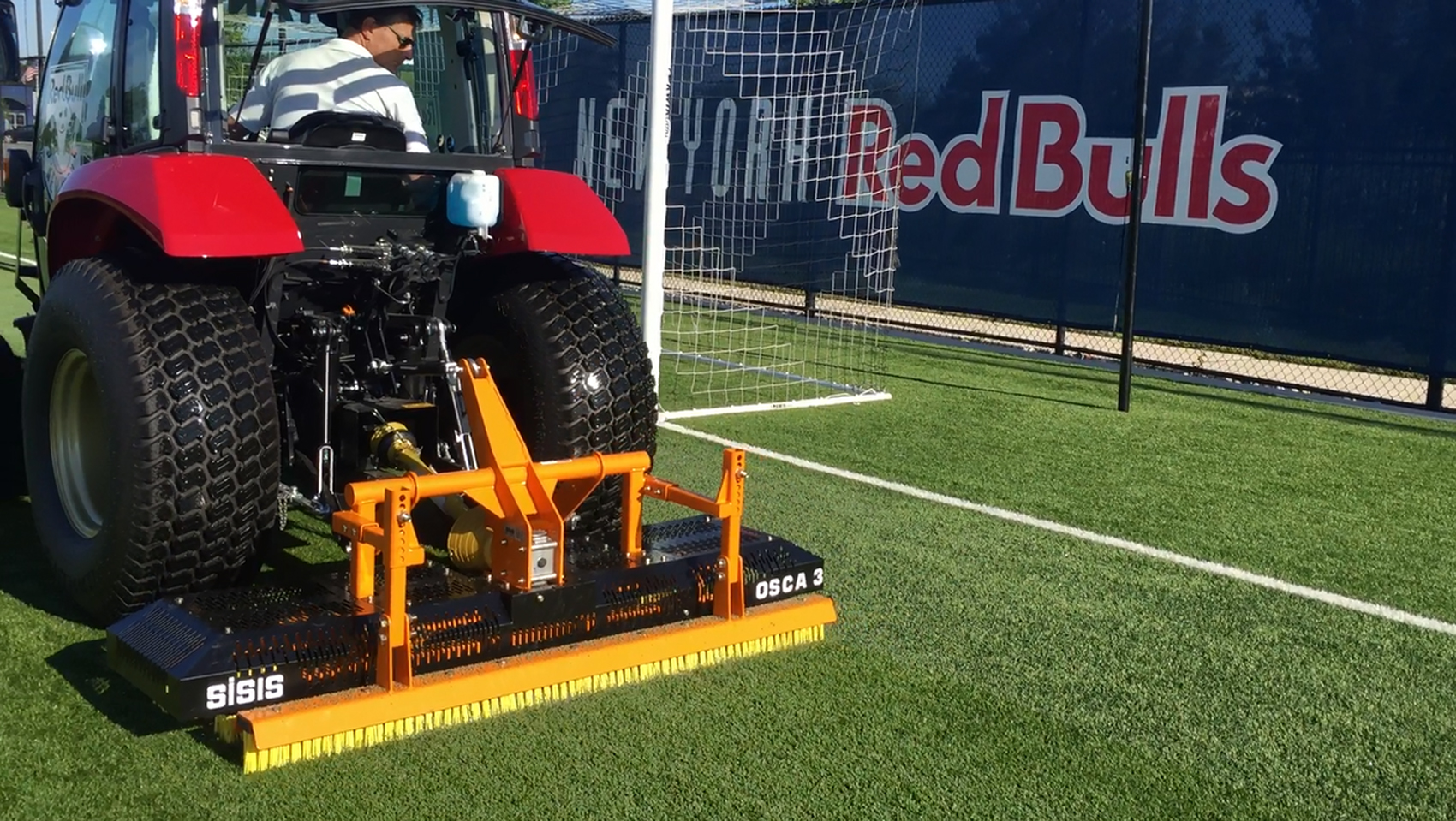 "We previously had a problem of matted down fibers on the synthetic turf, so I needed a machine which would help revive the laid over fibers," says Dan. "CS Trading LLC recommended the SISIS Osca and they arranged a demonstration for us. We saw an immediate result both visually as well as through field testing."
The SISIS Osca 3 is a tractor mounted powered oscillating brush with a 1.9 meter working width and is equally effective when used on synthetic turf with sand or rubber infill. The two oscillating brushes stand the carpet fibers up and redistributes the infill evening, minimizing compaction on the surface and improving its performance – giving consistent playing characteristics while preventing pile damage caused by reduced infill levels.
A contributory factor to the reduction of compaction is that the Osca's working width will use fewer passes than other more conventional drag brushes to complete a pitch. Its aggressive brushing action agitates the upper infill level of the surface from side to side as well as brushing forward, helping reduce surface compaction and encourage the fibers to stand up straight which reduces the risk of contamination, drainage problems and leaves a consistent playing surface across the whole pitch.
Dan, who uses the Osca on a bi-weekly basis, has reported excellent results since using the product.
"The SISIS Osca is a great machine to keep fibers standing up in synthetic turf and the dual oscillating brushes work in a different way to any other product on the market – in fact that was a key feature in me purchasing the machine."
"This product will save us money in the long run as it will eliminate the need for bringing in contractors and it will extend the life of our synthetic turf. The Osca is also incredibly simple and easy to operate – we just attach it to our tractor using the correct PTO – and adjust the speed depending on the level of brushing needed."
"I would absolutely recommend the SISIS Osca to anyone who is looking to improve their synthetic turf – it has now become a staple in our synthetic turf maintenance."
For further information or a no obligation demonstration, please contact SISIS on 01332 824 777 or visit www.sisis.com
https://www.fusion-media.eu/wp-content/uploads/2017/11/New-York-Red-Bulls.jpg
959
1700
chrisbassett
https://www.fusion-media.eu/wp-content/uploads/2022/02/FusionMedia_logo.png
chrisbassett
2017-11-13 10:07:48
2017-11-13 10:07:54
New York Red Bulls Praise SISIS Osca