The 35-acre Polesden Lacey National Trust property on the North Downs at Great Bookham, Surrey, one of the Trust's most popular properties, is now using Pellenc battery-powered equipment to keep tree & hedge cover and grass verges in check, quietly and without fumes.
Senior gardener at the National Trust property Chris Gaskin has the constant task of maintaining the grounds, yet preserving the delightful views across the North Downs countryside. He has now found a way of achieving this that is easier and far less obtrusive to visitors.
It is the Trust's Greener Garden Fund for more ecologically sound outdoor upkeep of its properties that aided the purchase of a Pellenc Helion lithium-ion battery-powered hedge trimmer and Pellenc Excelion lithium-ion battery-powered strimmer, which was supplied by local dealer Surrey Power.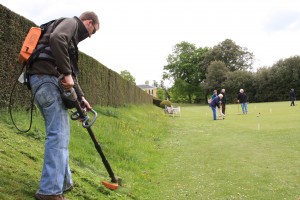 Work to keep the property's garden trim begins in mid-May and finishes in late October, which is peak visiting time and before now, when petrol equipment was previously used. This presented Chris with a variety of health and safety issues as well as user and visitor discomfort. Noise levels, petrol fumes and carrying petrol cans around site were the main offenders.
The Pellenc range of products use a back-pack battery and drastically cuts noise, user fatigue, and detrimental effect on passing visitors. These plusses alone would tick boxes in the Trust's Greener Garden checklist, but a further bonus at Polesden Lacey is that power for the batteries comes from an on-site solar panel.  Three to four hours of free charging is enough for a day's operation, so Chris' cutting work is about as energy efficient as you can get and with zero carbon emission. 
Whether you are using the pole, universal or telescopic model, the range of Helion hedge trimmers will improve your working conditions. They are extremely light (between 3 kg and 4 kg) thanks to the use of a revolutionary 1,200W motor developed by Pellenc.
By using the 4-speed selector switch, you can adapt your tool to the type of cut required. For easy topping off, the flexible +90°/-45° head is fitted on Pole and Telescopic models, whilst a +/-90° pivoting handle has been fitted on the Universal model for vertical cutting.
The Excelion brushcutter is a unique tool as it combines a brush and a grass cutter in one, whilst the multifunction head, developed by Pellenc, can be fitted, without the use of tools. The 4-speed selector, exclusive to Pellenc, makes it easier to adapt to the vegetation: slow speeds are recommended for edges and urban areas for example. Silent, rapid and extremely lightweight, Excelion is the new brush cutter for professionals.
"The new Pellenc equipment is a lot more user-friendly compared to the petrol equivalent and the environmental advantages are considerable," he says. "We are a lot more comfortable doing the work when visitors are here because they are not inconvenienced at all. In fact, they do not even notice we are here and that means we can start our maintenance work much earlier in the day."
Chris has four full-time staff in his department and upwards of forty regular volunteers. He says that a real bonus is that the new battery-powered equipment is used with ease by everyone involved in the garden maintenance work.
"The benefit here of switching to battery-powered equipment is the ease of use. They are so much lighter, yet just as effective as petrol machines, and of course quieter, free of fumes, and without potential harmful vibration."
Pellenc is exclusively distributed in the UK by Etesia UK. For further information, or to arrange a free demonstration, please contact Etesia UK on 01295 680120 or visit www.etesia.co.uk
For more news, reviews and insightful views, you can follow Etesia on Twitter @EtesiaUK and like the company's Facebook page – www.facebook.com/EtesiaUK
https://www.fusion-media.eu/wp-content/uploads/2013/06/IMG_2088.jpg
2592
3888
chrisbassett
https://www.fusion-media.eu/wp-content/uploads/2022/02/FusionMedia_logo.png
chrisbassett
2013-06-19 11:23:23
2013-06-19 11:27:05
No fumes and less noise for Heritage gardens with Pellenc