Etesia UK, the UK distributor of Pellenc battery-powered tools has announced it will now offer a three year commercial warranty as standard. The warranty is an extension of the normal manufacturers 12 month warranty.
General Manager for Etesia UK, Les Malin, said that this firmly establishes the Pellenc brand as the only truly professional range of battery-operated products on the market. "We have always been confident with the exceptional quality of the Pellenc tools, and have total confidence in every product that we sell to customers. That's an easy thing to say as a manufacturer, but to back it up with this new warranty is quite a different matter and further proves that the Pellenc brand is way ahead of any other battery-powered equipment currently on the market".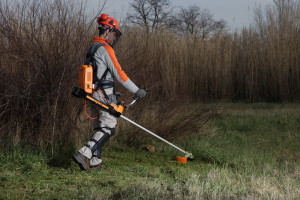 Pellenc tools can now be seen in every major UK city, as well as the majority of national trust sites around the country. "Most councils and contractors are looking more closely at the lifetime cost of their machinery and not just the initial purchasing cost. Our product is not the cheapest to buy, but if you consider lifetime cost, repairs, maintenance and downtime, the value is there for all to see".
In the last five years, Pellenc has gained market recognition by offering a unique range of 'zero emission' battery-powered handheld tools, thanks to the development of Lithium-ion ultra-high performance batteries. This technology, which is exclusive to Pellenc, allows for a drastic reduction in the production of greenhouse gases and noise pollution. It is also comfortable for users, meets new sustainable development demands and offers excellent economic profitability.
Pellenc is exclusively distributed in the UK by Etesia UK. All tools and batteries purchased after the 1st May 2014 will be covered with a 3 year manufacturer's warranty. Terms and conditions apply.
For further information, please contact Etesia UK on 01295 680120 or visit www.etesia.co.uk
For more news, reviews and insightful views, you can follow Etesia UK on Twitter @EtesiaUK and like the company's Facebook page – www.facebook.com/EtesiaUK. You can also view the latest Etesia videos by visiting www.youtube.com/EtesiaUK
https://www.fusion-media.eu/wp-content/uploads/2014/05/IMG_3124.jpg
1856
2784
chrisbassett
https://www.fusion-media.eu/wp-content/uploads/2022/02/FusionMedia_logo.png
chrisbassett
2014-05-08 14:27:09
2014-05-08 14:27:09
Pellenc Becomes First Manufacturer to Offer 3-Year Commercial Warranty