Working with trusted industry partners, Keith Kent has devised a rugby club pitch maintenance equipment package. The package is designed to meet the needs of rugby union clubs that aim to deliver a high quality pitch maintenance programme. The range of machinery includes a SISIS Quadraplay, SISIS Multitiner and Iseki TM3265 tractor.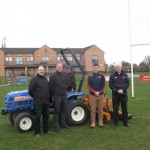 Keith Kent, RFU Head Groundsman said: "SISIS equipment is a great option for any rugby club looking to improve and keep their playing surfaces playable all season long. With the ability to use four implements at any one time, the Quadraplay allows a club to carry out a number of key maintenance tasks on their pitch and the Multitiner enables clubs to aerate their pitches on a regular basis."
As we move towards the rugby world cup in 2015; rugby clubs throughout the country will be looking to use this opportunity as the catalyst to grow their club. In order to be ready to deliver this, the RFU is challenging them to get 'Fit for 15'. Part of this challenge will be to ensure that clubs have the appropriate pitch quality and capacity ready for the influx of new players.
"Better pitch maintenance is a key element to the running and playing of the game," said Ted Mitchell, RFU's Club Facilities Technical Manager. "Keith has visited over 250 grassroots clubs in the past three years, promoting better pitch maintenance and dealing with local issues. Following his recommendation, we spoke at length with SISIS and are delighted to be able to announce this package to clubs that are in membership of the RFU."Simple design with low maintenance, the SISIS Multitiner is a drum type tractor mounted aerator, which is ideal for use on sports fields and fine turf surfaces. Fast and effective to improve drainage and encourage better root growth; the aerator incorporates quick release solid tines and a working depth of up to 100mm.
The SISIS Quadraplay is a versatile pitch maintenance system. Connecting to any tractor with a 3-point-linkage, the versatile one pass maintenance system includes a mounted frame with four implements. The implements can be arranged in any order and can be lifted out of use when not required. A single pass allows up to four operations to be carried out simultaneously including surface aeration, sward cleansing, rolling and brushing, which when combined together, enable groundsman to prepare and maintain a pitch to the desired standard as well as looking aesthetically pleasing.
Commenting on the partnership, SISIS Customer Manager Roger Moore said: "We are delighted that our equipment has been chosen as part of Keith Kent's pitch maintenance package. The Multiner and Quadraplay system are ideal products for enhancing and maintaining rugby pitches. We fully endorse the 'Lead up and Legacy' project that the RFU have put in place in creating better facilities for current and future generations of the rugby community."
For further information or a no obligation demonstration, please contact SISIS on 01332 824 777 or visit www.sisis.com
For more news, reviews and insightful views, you can follow SISIS on Twitter @SISISMachinery and like the company's Facebook page – www.facebook.com/SISISMachinery. You can also view the latest SISIS videos by visiting www.youtube.com/SISISMachinery
https://www.fusion-media.eu/wp-content/uploads/2013/05/IMG_4088a.jpg
768
1024
chrisbassett
https://www.fusion-media.eu/wp-content/uploads/2022/02/FusionMedia_logo.png
chrisbassett
2013-05-21 06:47:19
2013-05-21 06:47:19
Keith Kent Chooses SISIS Maintenance Equipment