A tank-mix designed by Agrovista Amenity is helping to control the weed population at the Singing Hills Golf Club in West Sussex.
Singing Hills features 27 holes in three loops of nine holes, allowing golfers to play any combination. Designed by Richard Hird, this parkland course, with its gently undulating fairways, spectacular water holes and the Sussex Downs as a backdrop, is one of the county's top golf venues.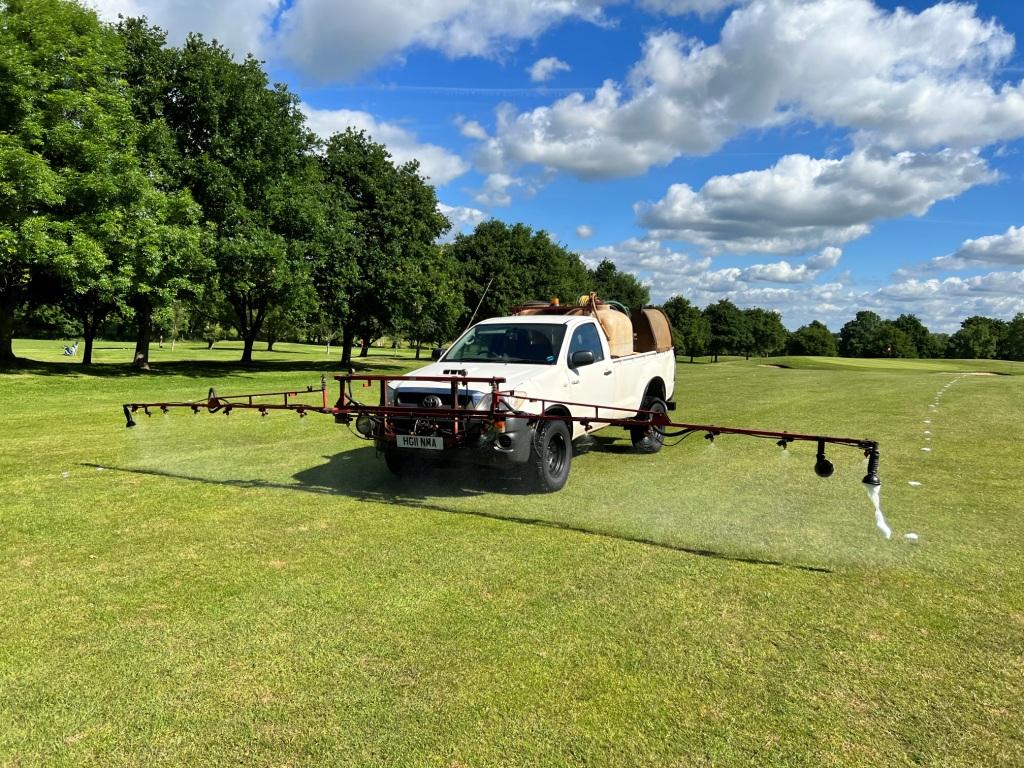 Course Manager Mark Lunday and his Deputy Tom Granite have improved the course each year and are proud of the fact that golf can be played all year round without the need of temporary greens. However, the course does have somewhat of an Achilles heel according to Tom.
"We have suffered here for years with a really bad weed problem on our fairways and green surrounds," he said. "In the past we have trialled all the different herbicides you can think of at different rates; we've tried it with wetters, stickers, pH adjusters and have done everything we possibly can but have not been successful."

"Following the unsuccessful trials, we spoke to Joseph Dormer from Agrovista Amenity and he put together a special tank-mix," added Mark. "We trialled it on two fairways and it worked well so we then chose to spray the entire course."
The three-way tank-mix which Joseph Dormer recommended consisted of Praxys (2L/ha) – a systemic, post-emergence herbicide, containing clopyralid, florasulam and fluroxypyr which combines three active ingredients and two modes of action; GoGreen Select (25L/ha) which is a complex iron sulphate for rapid greening; and Evolution Xtra Soluble (20kg/ha) – a stabilised urea product which is a cost-effective nitrogen source giving 2-3 months longevity. The mix is applied with water at a rate of 320L/ha.
ALS Contractors were brought in to spray the Agrovista Amenity tank-mix on all 27 fairways and green surrounds with a view of controlling the troublesome weeds while also improving the condition and health of the turf.
Mark and Tom were suitably impressed with the process from start to finish.
"Singing Hills is such a large site, and we physically can't get round to do the spraying," said Tom. "Therefore, we needed the professionals to come in and get it all done in one morning rather than us trying to do a little bit at a time, and not get anywhere. The process went really well – the guys knew exactly what they were doing, and we couldn't ask for more."

"It is down to Agrovista Amenity's scientific research that has enabled us to control the weed population at Singing Hills Golf Course," said Mark. "Hopefully we will continue to see a lot more vigour and colour on our fairways, therefore enhancing the golf course."
For more information about Agrovista UK, visit www.agrovista.co.uk/amenity
https://www.fusion-media.eu/wp-content/uploads/2022/07/Singing-the-praises-of-an-Agrovista-tank-mix.jpg
768
1024
chrisbassett
https://www.fusion-media.eu/wp-content/uploads/2022/02/FusionMedia_logo.png
chrisbassett
2022-07-12 13:53:05
2022-07-12 14:01:01
Singing the praises of an Agrovista tank-mix