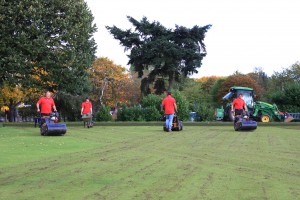 Avonmore Associates, a specialist fine turf contractor, has upgraded its turf maintenance fleet with the purchase of two SISIS Rotorake 600HD pedestrian scarifiers, which have been put straight to work this autumn during a period which has seen 126 bowls greens renovated in just five weeks.
This heavy duty pedestrian scarifier can be used for regular, routine use at a shallow setting or a deeper setting as and when required. It also contributes to aeration and compaction relief by cutting clean, continuous slits to assist water and air absorption. Featuring a new, modern design with more responsive manoeuvrability makes the Rotorake 600HD more operator-friendly.
Phil Buttler, Partner of Avonmore Associates explained that the quick change over of reels for extra versatility, which allow operatives to carry out a number of different key tasks and the sheer robustness of the machine were key reasons for the new purchase.
"The quick change of reels will allow us to control and remove thatch throughout the year. We use different blades – the thicker ones go slightly deeper and the thinner ones just take the top out so as to keep the thatch under control. The build quality of the 600HD is exceptional – no compromise has been made on quality.
Launched in the UK at IOG SALTEX in September, the advantages of the SISIS Rotorake 600HD include ease of use, a range of quick-release, interchangeable reels including scarifying, verticutting and brushing, variable blade spacing, a large working width of 600mm (24"), six forward speeds and a reverse gear for efficiency under varying terrain, an independent drive to the wheels and reel for operator safety and a collection box.
Founded 25 years ago by Phil's father, Avonmore Associates remains a family-run business which is based near Stratford-upon-Avon and specialises in the design, construction, maintenance and irrigation of quality turf surfaces used for sports, leisure and recreation purposes.
"We have just finished an extremely busy five week period in the year for us with the renovation of 126 bowling greens and the 600HD has been tremendous. Both machines have been used at each club and have close to 100 hours on the clock and they have not missed a beat.
"With the extra versatility that the new model has, we will be able to maximise the use of them throughout the year which is just fantastic, whether it's scarifying in the autumn or power brushing in the summer – making it really pay for itself."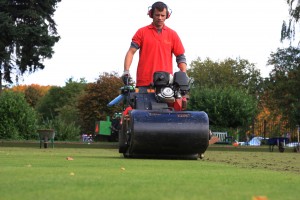 Phil puts the company's success down to keeping standards high and working hard and as one of the leading groundcare maintenance specialists they are keen to evaluate any new equipment that comes into the market place.
"We are absolutely delighted with the new machines. The service which we have received from SISIS has been first class and since the takeover a couple of years ago, we have certainly seen an improvement in the quality of products. The new 600HD has been a big part of why we were able to complete so many renovations this autumn," said Phil.
You can view Phil Buttler from Avonmore Associates and what he thinks of the SISIS 600HD by clicking here
For further information or a no obligation demonstration, please contact SISIS on 01332 824 777 or visit www.sisis.com
For more news, reviews and insightful views, you can follow SISIS on Twitter @SISISMachinery and like the company's Facebook page – www.facebook.com/SISISMachinery. You can also view the latest SISIS videos by visiting www.youtube.com/SISISMachinery.
https://www.fusion-media.eu/wp-content/uploads/2013/11/SISIS600HD.jpg
2592
3888
chrisbassett
https://www.fusion-media.eu/wp-content/uploads/2022/02/FusionMedia_logo.png
chrisbassett
2013-11-20 11:06:36
2013-11-20 11:07:13
SISIS 600HD Helps Renovate over 100 Bowling Greens in Five Weeks