The recent purchase of a SISIS Javelin Aer-Aid 1500 tractor mounted aerator by Mick Doyle, head groundsman at Bradford City Football Club, has seen a dramatic improvement of the playing surface at both The Coral Windows Stadium and the nearby training ground.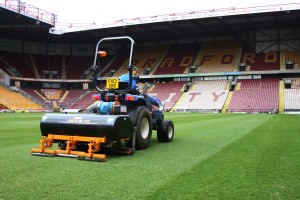 Mick, who has been head groundsman at the club for the past six years, is also a lifelong supporter and his enthusiasm for his beloved club and the pride he takes in preparing the pitch shines through from the moment you meet him. Recently, he was able to persuade the club to invest in some new turf maintenance machinery.
"When we were looking for a new aerator I spoke to other groundsmen. I'd heard how good the Aer-Aid was from those who were using it and the benefits of injecting air in to the rootzone, so we organised a demonstration through our local dealer. Following this, we placed an order," commented Mick.
The Javelin Aer-Aid 1500 not only aerates with a vertical action, but also injects air into the root zone at a fast working rate, creating thousands of fissures. The cam trigger mechanism ensures that the air is always expelled at the bottom of the tine penetration. The overall result is reduced compaction and a healthier root growth. The 10mm diameter 'tipped' tines are spaced at 75mm (3ins) with depth of penetration infinitely variable to a maximum of 127mm (5ins). The air injection tines are designed to use the maximum air available from the compressor and produce clean, fresh air. Surface disturbance is also kept to a minimum.
"The Aer-Aid will blast air into the rootzone where you need it. It also decompacts the surface when it gets that little bit too hard. Since we've been using this machine, we've also noticed less injuries to players lower backs and lower legs.
"I use the machine before our home matches because I can reduce compaction and with so little surface disturbance, it means it can be played on straight away which is great."
The Javelin Aer-Aid 1500 has a working width of 1.5 meters and is extremely quiet in operation. It can be powered by compact tractor as little as 30hp which also keeps weight on the surface to a minimum. Used at the correct speed and depth, it can aerate a typical football pitch in just 3 – 3.5 hours, whilst leaving an even finish that can be played on immediately afterwards.
"Changing tines is also quick and there is very little maintenance needed on the machine. I've found it so simple to use. You can go at fast speed or slow speed in most weather conditions and all you need to do is wash it off after you use it. Hand on badge, and heart, I would recommend this machine to anyone looking to improve their surface."
For further information or a no obligation demonstration, please contact SISIS on 01332 824 777 or visit www.sisis.com
For more news, reviews and insightful views, you can follow SISIS on Twitter @SISISMachinery and like the company's Facebook page – www.facebook.com/SISISMachinery. You can also view the latest SISIS videos by visiting www.youtube.com/SISISMachinery.
https://www.fusion-media.eu/wp-content/uploads/2014/04/SISIS-Javelin-Aer-Aid-1500.jpg
2592
3888
chrisbassett
https://www.fusion-media.eu/wp-content/uploads/2022/02/FusionMedia_logo.png
chrisbassett
2014-04-22 09:43:56
2014-04-22 09:43:56
SISIS Aer-Aid Brings Pitch Improvements to Bradford City