SISIS will be exhibiting at the Golf Industry Show (GIS) which is taking place in the Orange County Convention Centre in Orlando on February 5-6 2014, at booth 1979, with two new products – the Rotorake 600HD pedestrian de-thatcher and the Rotorake TM1000 tractor mounted de-thatcher which now features a new interchangeable reel system.
Along with the two new machines, which are being launched into the US market for the first time, will be the highly popular Veemo MK2 heavy duty tractor mounted de-thatcher, Auto Rotorake MK5 self-propelled heavy duty de-thatcher and Multislit 1200 tractor mounted deep slitter.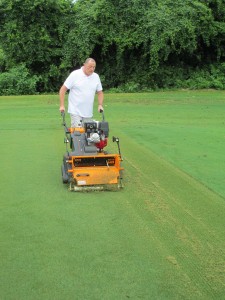 The SISIS team of designers and engineers have been working closely with Superintendents and Course Managers, across a number of states in the USA through a series of 'focus groups' over the past twelve months, to ensure that the launch of the new Rotorake 600HD and Rotorake TM1000 meets the high expectations that the company sets.
The Rotorake 600HD is a heavy duty pedestrian de-thatcher and linear aerator which can be used for regular, routine use at a shallow setting or a deeper setting as and when required. It also contributes to aeration and compaction relief by cutting clean, continuous slits to assist water and air absorption. Featuring a new, modern design with more responsive manoeuvrability makes the Rotorake 600HD even more operator-friendly.
Following numerous 'out in the field' demonstrations and research through a 'focus group' method in the harshest of environments with Superintendents and Course Managers, the machine has proven to be successful on a range of different grass species including Paspalum greens which is salt tolerant and renowned for being extremely tough to de-thatch.The SISIS Rotorake TM1000 is a tractor mounted unit which is now available with five quick release interchangeable reels to aid the removal and control of thatch and help reduce standing surface water by improving water infiltration.
Like other de-thatchers in the SISIS range, the Rotorake TM1000 works on the successful contra-rotating principle for a clean, consistent performance with a selection of blades to suit key seasonal tasks.
Unique features of the re-designed product include a floating unit to follow ground contours, a range of five quick release interchangeable reels and optional spacing for de-thatching, linear aeration, verticutting and brushing and a 'no tools required' depth setting ensuring fast, simple adjustments can be made.
The weight of the collection box and material is carried by the main frame on the front roller and is totally independent from the reel, which means when the machine is in use, the additional weight does not force the reel to scarify deeper than the user has set it.
For further SISIS product information or a no obligation demonstration, please contact the SISIS USA distributor CS Trading on (864) 843 5972 or visit www.sisis.com.
For more news, reviews and insightful views, you can follow SISIS on Twitter @SISISMachinery and like the company's Facebook page – www.facebook.com/SISISMachinery. You can also view the latest SISIS videos by visiting www.youtube.com/SISISMachinery.
https://www.fusion-media.eu/wp-content/uploads/2013/12/SISIS-at-GIS.jpg
4608
3456
chrisbassett
https://www.fusion-media.eu/wp-content/uploads/2022/02/FusionMedia_logo.png
chrisbassett
2013-12-17 14:08:21
2013-12-17 14:23:10
SISIS Return to Golf Industry Show to Launch Two New Products