When the time came for Andy Chetram, Facilities Manager at Central Park Stadium – the UK's longest greyhound track, to purchase new maintenance equipment there was only one choice – a SISIS Quadraplay.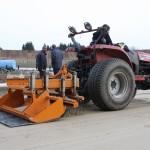 The 1.8m wide single pass maintenance system equipped with tilth rake, grooming rake and levelling plate helps remove paw prints from the previous race while simultaneously smoothing and firming the surface to provide the optimum conditions for the next race.
Greyhounds need a firm, yet forgiving track to achieve the grip and speed necessary to produce the sustained performance expected by owners, trainers and race-goers. "We've used SISIS equipment since 1997," said Andy. "Before they moved, we had a football pitch in the centre of the dog track and used to share maintenance equipment with the football club, which was how we first knew about SISIS. When they moved, we inherited their Quadraplay machine.
"It's the main tool we use for the maintenance of the track between races because it saves us time and labour as it's so wide. When the time came to purchase a new machine, there was only one choice for us. We love using the Quadraplay because it's so simple to use with very little on-going maintenance as it has no moving parts as such. Also, the service back-up that SISIS has given us over the years has been exceptional and I know I can get parts, such as new grooming tines, as and when they are required."The manual adjustment of height, rather than the use of hydraulics, was another factor in Andy's decision to purchase SISIS. "We use the Quadraplay to train new track staff because it's so easy to use. Because the machine has no hydraulics, we don't have to modify our tractor and there is no risk of a hose splitting and oil spilling all over the track. This would be a catastrophe for us, meaning we'd have to close the track, causing a loss of revenue. With each event being screened live to bookmakers across the country, we just can't take the risk."
Connecting to any tractor with a 3-point-linkage, the versatile one pass maintenance system is used for fast and effective grooming of natural and synthetic turf and hard-porous surfaces. Up to four operations can be carried out simultaneously with a range of fully interchangeable implements such as deep & spiker slitters, range of brushes and rakes, levelling lute, roller and grader plate which give the desired finish.
"It's a very versatile system and we can also add new implements as and when we need to. It's a very forgiving frame which is built well. It does exactly what it say's on the tin – it maintains our track to an excellent standard."
For further information or a no obligation demonstration, please contact SISIS on 01332 824 777 or visit www.sisis.com.
For more news, reviews and insightful views, you can follow SISIS on Twitter @SISISMachinery and like the company's Facebook page – www.facebook.com/SISISMachinery. You can also view the latest SISIS videos by visiting www.youtube.com/SISISMachinery.
https://www.fusion-media.eu/wp-content/uploads/2013/06/IMG_1141.jpg
2592
3888
chrisbassett
https://www.fusion-media.eu/wp-content/uploads/2022/02/FusionMedia_logo.png
chrisbassett
2013-06-04 11:52:20
2013-06-04 11:52:20
SISIS Quadraplay Proves a Winner at Central Park Stadium