Four of the eight grass pitches at Premiership club Stoke City's Clayton Wood training complex recently underwent major renovation work this summer courtesy of contractor Souters Sports in conjunction with the club's pitch advisers PSD.
The work was the latest stage in an on-going project to upgrade first team and academy pitches.
Souters Sports have been handling end of season renovations and upgrading works, including drainage and surface refurbishment at the 70,000m² Clayton Wood site for five years and proves the good relationship that Head Groundsman Andrew Jackson has with the contractor. The latest work was completed within a seven-week period of concentrated upgrading of surfaces and drainage. With training usage still required well into May it meant a precise staggering of the work was essential.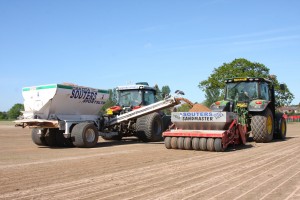 "The idea has been to make it a progressive pitch improvement project over a number of years, rather than a massive one-hit change with all the disruption and risks involved," said Stoke City Head Groundsman Andrew Jackson.
"It is working very well and Souters can take big credit for that. They are very mindful of our needs here at the club when they're on site. We had to put them on an extremely tight schedule. They were very quick to react if there was any weather downtime. It is good to have a contractor that works with you, not just for you."
Andrew has been on the groundstaff at the club for 18 years. City born and bred, he is passionate about everything it does.
"The club has invested hugely in its new academy system and the facilities here at Clayton Wood. It is absolutely vital that we give young players the best possible training pitches. Souters' work including the helpful germination conditions meant they are the best yet. New boss Mark Hughes is very impressed and like everyone here raring to go."
The main aim this year was the upgrading of the floodlit match pitch, including the introduction of 420m³ of sand ameliorated into the upper 50mm of topsoil after localised re levelling works, additional lateral drainage and secondary drainage installation using the Koro Topdrain, which excavates sand slits 50mm wide, 300mm deep at 450mm centres and backfills with injected sand in one pass, to further enhance surface drainage capabilities. The pitch is then treated with an application of pre seed fertiliser at a rate of 35g/m² and seeded with sports rye mix, supplied by the club, at 45g/m².
Work on three other pitches included fraise mowing, vertidraining, sand top dressing, sand slitting with the Blec Vibramaster, fertilising and re-seeding. Four further pitches underwent a more basic renovation programme of scarifying, sand top dressing, vertidraining, fertilising and over seeding.
All of the pitches renovated by Souters for the Club were back in full use seven weeks after seeding.
For further information, please contact Souters Sports Limited on 01236 453030 or visit www.souterssports.co.uk. Souters Sports are also on Twitter @SoutersSports
https://www.fusion-media.eu/wp-content/uploads/2013/08/Sports-Ground-Construction-www.souterssports.co_.uk_.jpg
2592
3888
chrisbassett
https://www.fusion-media.eu/wp-content/uploads/2022/02/FusionMedia_logo.png
chrisbassett
2013-08-13 13:24:06
2013-08-13 13:24:06
Souters Sports Complete Renovation Works at Stoke City FC