Jay Berkhauer, Head Groundsman for Dartford FC, says that the Dennis G860 cylinder mower is hugely versatile and offers an unrivalled finish.
Jay, who is employed by Jordans Sports Ground Solutions, has been working at Dartford FC's Princes Park Stadium for three seasons. As an experienced grounds manager, Jay has worked on many sports surfaces including football, rugby and cricket.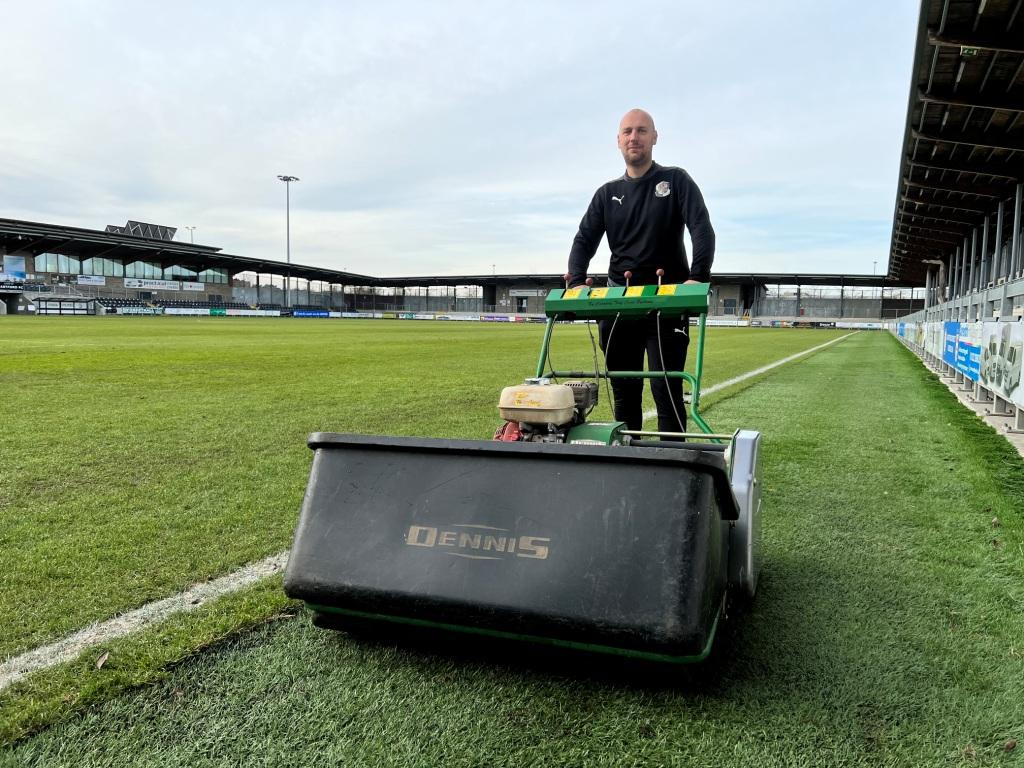 It's safe to say that he knows his mowers and there's one that he has used regularly throughout his career.
"I first started using Dennis G860's when I worked at Crystal Palace FC – and I absolutely love them," he said. "From all the mowers I have used in my career I am of the opinion that you just can't get a better finish than a Dennis."
Therefore, when Jay started working for Jordans Sports Grounds Solutions, he was pleased to be given a Dennis G860 to use at Dartford FC: "Everyone who works on the maintenance side for the company has a G860," he added.
Relied upon at world class stadia and major tournaments, the Dennis G860 is one of the most renowned cylinder mowers in the grounds management industry. Lightweight at just 166kg it is incredibly easy to manoeuvre and comfortable to operate. The handlebar console houses the controls for the throttle, parking brake, roller drive and cutting cylinder drive.
The mower features a large diameter front roller with an adjustable scraper which has been designed for a precise height of cut control, giving an excellent finish on every occasion. The Dennis G860 also features an interchangeable cassette system to assist with a wide range of tasks such as including scarifying, verticutting, brushing, spiking, and slitting.
Jay claims that this versatility is one of the G860's best features.
"We have the verticutting cassette, the brush and the cutting cylinder," he said. "In the summer months when the grass needs thinning out, I'll use the verticutting cassette. I'll also use it during renovations, just to give it a thorough clean and to remove any thatch.

"In winter, I'll use the brush cassette after a game to give the pitch a tidy-up and to remove any debris. If I used a small rotary mower to do this after a game, I would be doing it all night, so the brush has certainly helped me to save time.

"Then of course, we have the cutting cylinder which provides an excellent finish every time.

"For clubs at all levels, including grass roots level, there is no better machine," continued Jay. "The G860 has everything you need in one mower. It is a 3-in-1 for me and therefore works out to be very cost-effective.

"It's also very light and easy to operate. It never breaks down and reliability is so important for me."
For further information or a no obligation demonstration, please contact Dennis 01332 824 777 or visit www.dennisuk.com
https://www.fusion-media.eu/wp-content/uploads/2022/04/Dartford-FC-choose-Dennis-G860.jpg
768
1024
chrisbassett
https://www.fusion-media.eu/wp-content/uploads/2022/02/FusionMedia_logo.png
chrisbassett
2022-04-21 07:43:24
2022-04-21 07:43:24
There's no better finish than a Dennis