Treble award win for Fusion Media clients. Fusion Media was delighted to see three of its clients, Sherriff Amenity, Limagrain UK and Etesia UK, pick up awards at SALTEX 2018.
Sherriff Amenity's ground-breaking new app, PrecisionPro, was announced as the winner of the second, annual SALTEX Innovation Award on the first day of SALTEX. Established at the show in 2017, the SALTEX Innovation Award was created to encourage innovation excellence and celebrate the best products within the groundscare industry.
After a record number of entries were submitted, Sherriff Amenity's PrecisionPro was shortlisted as one of the final three products and competed against the Toro Outcross 9060 from Reesink Turfcare, and the ROBOCUT from McConnel.
The three finalists were given a final opportunity to impress the independent judges as they took to the stage in the new Innovation Hub. Later in the afternoon, the judges announced PrecisionPro as the winner.
PrecisionPro, is a dedicated app for sports turf to measure any area, guide the operator in calibrating a spreader for any granular product and also help apply fertilisers accurately. The app was created due to the common issue of turf managers misjudging green/sport surface size which often results in problems such as over applying or under applying fertilisers – both of which can have a negative effect on performance, disease and budget.
Sherriff Amenity was not the only client of Fusion Media to pick up an award on the SALTEX show floor. For the third year running, Etesia UK won the SALTEX 2018 Best Stand Award in the shell scheme space category of 60m2 and above while Limagrain UK also picked up the Best Stand Award in the shell scheme category of 21m2 – 31m2.
The long standing Best Stand Awards were created to recognise the design creativity and business-friendly appeal of exhibiting companies' physical presence at SALTEX. The judging criteria for the Best Stand award focused on identifying an eye-catching stand with a creative design that made the best use of available space and attracted a high level of visitor traffic.
The hotly anticipated winners of this year's stand awards were announced on the show floor on the morning of the second day at SALTEX, and it was then that Etesia UK managing director Les Malin and Limagrain UK amenity manager Matt Gresty were presented with their respective awards.
Commenting on the award winners, Fusion Media managing director Christopher Bassett said: "It was a proud moment seeing Sherriff Amenity, Limagrain and Etesia win their awards at SALTEX. PrecisionPro has been a long-time in the making and the guys have done an incredible job – their attention to detail has been incredible and this app can really make a difference to many professionals in the industry.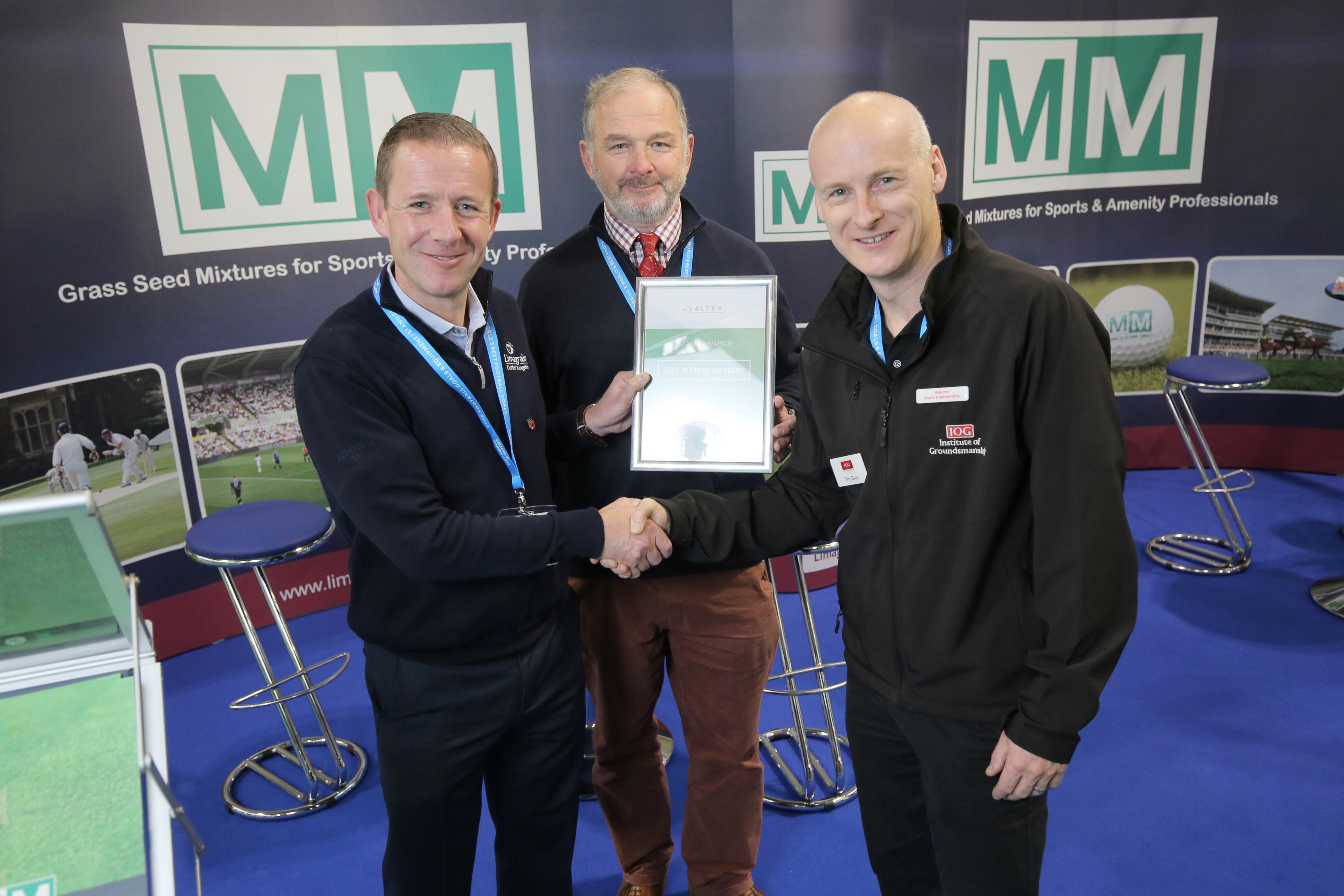 "Each year, we work alongside our clients to create their show graphics, and in Etesia's case, build the stand, so seeing two of them pick up the best stand award is especially rewarding. The Limagrain stand also looked amazing.
"The awards just topped off what was an amazing SALTEX."
https://www.fusion-media.eu/wp-content/uploads/2018/11/saltex2018_0216.jpg
2560
3840
chrisbassett
https://www.fusion-media.eu/wp-content/uploads/2022/02/FusionMedia_logo.png
chrisbassett
2018-11-21 18:50:09
2018-11-21 18:50:09
Treble award win for Fusion Media clients