After extensive trials, the Weed-IT spot treatment technology has been considered a great success in the push to find a means of reducing the consumption of herbicides on the UK railways.
Forward thinking managers from the industry commissioned the trial of the Weed-IT system with a view to actively reducing the reliance on older blanket spraying of contact products.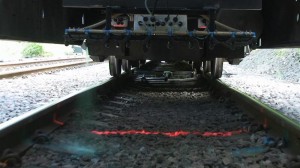 Key requirements for the system were that it could accurately apply herbicide from the underside of the train at speeds up to and including 50km per hour. In addition the system would need to be capable of spraying in both directions of travel without the operators having any regular access to the unit during the circuit.
While circuits are planned long in advance and access to some sections of the track can be difficult to arrange, it was also imperative that reliability was absolute to ensure that no sections of the track were missed.
16 individual nozzles, each controlled by sensors viewing only a small section of the ballast deliver spot application to even the smallest of weeds. The initial prototype system used to prove the technology was so successful that a bi-directional system was built to go live on the infrastructure.
Following two seasons of use without a single break down it can be clearly demonstrated that there is no better way to apply herbicides to the UK's rail network. Further testing of the system are planned to enable the use of genuine spot application technology over a greater area.
With increasing pressures to further improve efficiency; this will be a key means of allowing the managers of our rail network to access environmentally sound solutions to the problem of managing weed growth.
For more information, please contact Complete Weed Control's National office on 01325 324 277 or visit www.completeweedcontrol.co.uk. You can also follow CWC on Twitter @CWCLimited for much more news, reviews and insightful views.
https://www.fusion-media.eu/wp-content/uploads/2014/11/Rail-Network-01.jpg
450
800
chrisbassett
https://www.fusion-media.eu/wp-content/uploads/2022/02/FusionMedia_logo.png
chrisbassett
2014-11-19 07:54:57
2014-11-19 07:55:14
Complete Weed Control's Weed-IT Used on UK Rail Network