Sherriff Amenity has announced that it is launching some new additions to its popular fungicide packages. The new tank-mixes have been designed to combine fungicides, nutrients and adjuvants, helping to control major turf diseases including Microdochium Patch (Fusarium patch), Dollar Spot, Anthracnose, Leaf Spot, Take-all and Fairy Ring.
Independent trials were conducted at the STRI in order to create and perfect each different fungicide package; which will be welcome news to groundsmen and greenkeepers whose work can suffer at the hands of the diseases.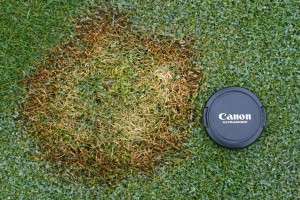 "Sherriff Amenity work closely with the STRI to identify effective ways of approaching disease control and we were keen to expand on our range of mixes. We conducted a number of independent trials throughout the autumn and winter period last year with protocols put together by the Sherriff Amenity technical team and STRI. After a lengthy process we came up with our desired mixes," said Joe Kinder, Technical Manager for Sherriff Amenity.
The new packages include the use of copper, phosphites and silicon. With these new ingredients the potential for disease resistant development can be reduced. Recovery time from disease can also be reduced and users should see some substantial improvements to the quality of the turf.
Taking a closer look at the new mixes, LS1 has been specifically designed to target Leaf Spot disease, combining the key active ingredients in Interface, with the benefits of the phosphite and silicon contained in Fossil and is further enhanced by the adjuvant Velocity, which helps improve the spread and leaf retention of the application.
Combatting Microdochium patch are the new MP mixes. MP10 is a combination of Chipco Green, See You – a new liquid copper and the unique adjuvant Velocity. Research revealed this mix to reduce the percentage of disease when compared to using Chipco Green alone.
MP13 combines Interface with Fossil, Velocity and Green Lawnger Pro HC resulting in enhanced support against disease pressure, excellent recovery & fantastic turf presentation.
Trials at STRI revealed that when Headway, a fungicide that contains azoxystrobin & propiconazole in a Maxx formulation, is tank-mixed with the carefully selected nutritional and adjuvant products Fossil, Roller & Green Lawnger Pro HC not only gave a good level of disease control but also improved turf appearance. These products are brought together in the new package MP14
MP11 combines Headway with GoGreen Plus, a market leading complexed iron to encourage a rapid recovery to disease infected areas
MP12 combines Astute, a fungicide that contains prochloraz and tebuconazole with GoGreen Plus. This mix has been proven to give outstanding results with high levels of Microdochium patch control
Many of the active ingredients and nutritional formulations in the new packages are unique and its distinctive package mixes give Sherriff Amenity the edge in the amenity market.
"Based on previous packages and the performance data received from trials at the STRI, along with end user results throughout the UK, we are confident they will be as popular as previous packages," said Joe.
Sherriff Amenity's investment in the trials of these new packages certainly is testament to its commitment to the industry and further underlines its forefront position in the marketplace.
For further information, please contact Sherriff Amenity on 01638 721 888 or visit www.sherriffamenity.com
For more news and insightful views, you can follow Sherriff Amenity on Twitter @SherriffAmenity
https://www.fusion-media.eu/wp-content/uploads/2014/10/2014_23-Photo.jpg
2592
3888
chrisbassett
https://www.fusion-media.eu/wp-content/uploads/2022/02/FusionMedia_logo.png
chrisbassett
2014-10-28 11:52:22
2014-10-28 11:52:22
Sherriff Amenity Tackle Turf Disease with Exciting New Products