Last season, it is safe to say, was one to forget for Charlton Athletic FC. As well as narrowly escaping relegation from the Championship, the playing pitch at the Valley fell under heavy scrutiny. However after an encouraging start to the season things are starting to look up and a total pitch re-construction carried out by Souters Sports means that there is now nothing stopping the club from climbing back up to the dazzling heights of Premier League football.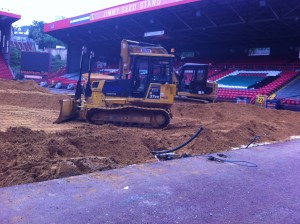 Most home games last season saw Charlton Athletic trying to grind out victories on a water logged pitch; a pitch that was originally built in the 1950's. It became obvious that the surface, which had graced so many gifted players over the years, had finally had its day. Drains had collapsed, laterals were blocked and head groundsman Nathan Chapman was losing a severe amount of sleep.
"We were fighting a losing battle. We had a couple of games called off and it was an absolute nightmare. Bad luck follows you everywhere and every Saturday last season it just happened to rain. The grass was holding so much water, the plant wasn't healthy, it was just sitting in anaerobic soil – it was horrible to work with – you'd be swimming in water all of the time," he said.
A change of ownership at the club brought new aspirations and at the start of the year they agreed to a new pitch installation following consultations with the STRI. What followed was then a competitive tendering process in which Souters Sports came out on top and were selected to carry out the re-construction process.
Firmly established as one of the UK's leading specialist sportsturf contractors, Souters Sports are renowned for providing sports ground construction, land drainage and sports pitch renovation services of the highest quality. It was this quality and reassurance which led Nathan and the team at Charlton Athletic to choose Souters Sports as their specialist contractor.
"They told me that it would be a 5 week construction period whereas other companies were telling me it would take 12 weeks. To be honest I didn't think it would be possible to complete the work in just 5 weeks but I was proved wrong. It was brilliant to watch them at work; it was just so professional," said Nathan.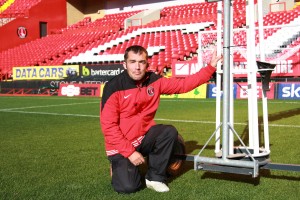 The Souters Sports team arrived at The Valley at the end of last season and worked on the site using their specialist sports surface construction expertise, machinery and technical knowledge to deliver the project on time and on budget. They began by completely stripping the pitch and digging down to 450mm. The old fibre sand was distributed according to Souters Sports commitment to the environment: some was sent over to be re-used at Hackney Marshes playing fields while the remaining fibre sand was recycled.
The aged and deteriorating drainage and irrigation system was removed and replaced before filling and levelling it all off – which were meticulously executed. 18 new laterals with a geo-texture layer were then fitted with the new pipes redirecting drainage to a manhole at the north end of the pitch and rain is now something which Nathan no longer fears.
"Last season a cup full of water would have flooded it. However, this season when we have a downpour, everywhere around the club floods apart from the pitch. I am able to water it two days later so that shows just how fantastic the drainage now is. Water is now my friend again," he said.
Following the construction work, the pitch was seeded and Souters Sports expert Ben Grainger remained at the stadium to help Nathan for the duration of the growing-in period. It was over-seeded while pre-season fertilizers and amino acids were applied to help bring the grass along. Rigorous testing then followed which produced glowing results; but time was short with the start of the new season just around the corner.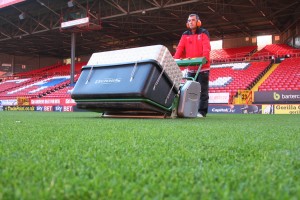 "We had special dispensation from the league for the first home game to be played away instead. But we actually had a home game on the Tuesday so we didn't really have that much time and then we got hit with three home games back-to-back. Obviously I was on tender hooks but the pitch held up really well.
"As the months have gone by the pitch has got stronger and stronger. We've had 11 games so far this season and as you can see there is no damage at all. I have root growth of almost 200mm and there are no divots whatsoever – it just shows you how well Souters Sports carried out the re-construction.
"I would recommend Souters Sports to anybody if they needed a re-construction. The team were so professional, extremely clean and tidy; everything about them was just brilliant," said Nathan.
Charlton Athletic has started the season well and although it's early days, the club is within touching distance of the play off positions. So could the new pitch have anything to do with their rejuvenated form? Nathan certainly seems to think so:
"It's all very well having a ten million pound striker but you've still got to have a good surface to play on and we've got that now. So far this season we are undefeated on our new pitch and I like to think that it is the pitch that is really performing."
For further information, please contact Souters Sports Limited on 01236 453030 or visit www.souterssports.co.uk. Souters Sports are also on Twitter @SoutersSports
https://www.fusion-media.eu/wp-content/uploads/2014/12/IMG_8167.jpg
2592
3888
chrisbassett
https://www.fusion-media.eu/wp-content/uploads/2022/02/FusionMedia_logo.png
chrisbassett
2014-12-17 17:38:21
2014-12-17 17:38:21
Souters Sports help Rejuvenate The Addicks